Meet the Woodmaster Woodworkers of 'Curiosity Woodworks'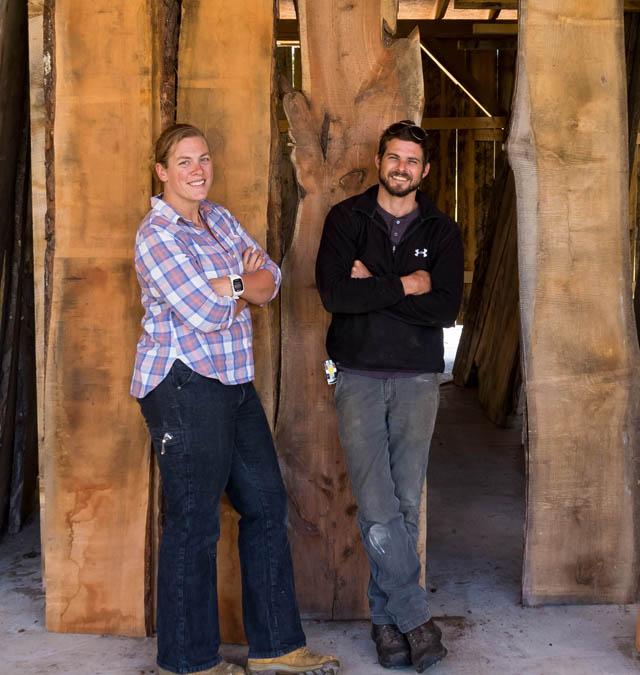 "We get along great. And everything we do is a mutual decision." — Erin Bell & Jeff Helm, co-owners, Curiosity Woodworks
"Our business model is a little hard to describe," says Erin Bell, co-owner of Curiosity Woodworks, the woodworking shop at Curiosity Farms. "The farm is my dad's brainchild, Marty Bell. This is a four-way partnership: me, Jeff, my dad, and my stepmom, Cathy. Together, we work at the farm to produce and sell agricultural produce and timber, and offer services including construction, renovation, vacation rentals…and furniture making!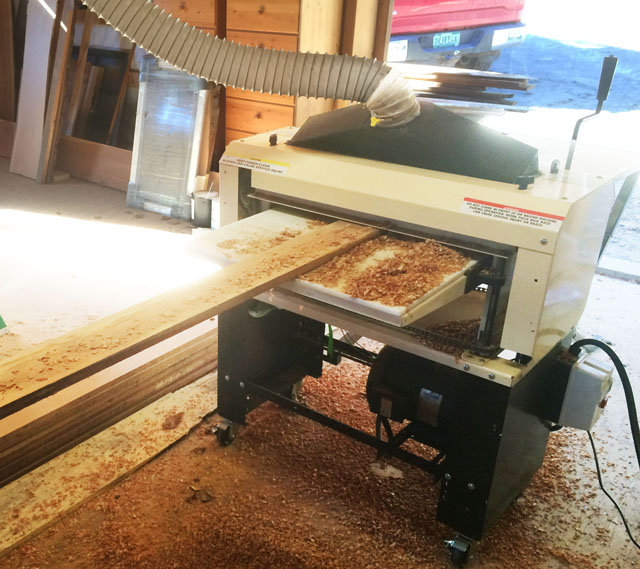 Among our farm's goals are understanding and utilizing the value of local land to create a diversified, self-sustaining, farm-based enterprise. And to do it collaboratively with others in our community. We're a pretty fluid operation because we're not afraid to try new things.
Curiosity Farms got started after my dad bought a 100-acre Vermont farm. Later, we acquired another 50-acre farm. Both properties were pretty well dilapidated and overgrown. They contained meadows, hills, 50 acres of woodland, and mountainside, all of which had not been let go for a long time. We did a lot of brush hogging!
This all came with a house more than 200 years old and one of the largest barns in Vermont, both needing a lot of work. The property has very old maple trees and a sugar house where maple sap is turned into maple syrup. It also has many hiking trails that are popular with local folks. Oh, and we have three rental properties in town, too.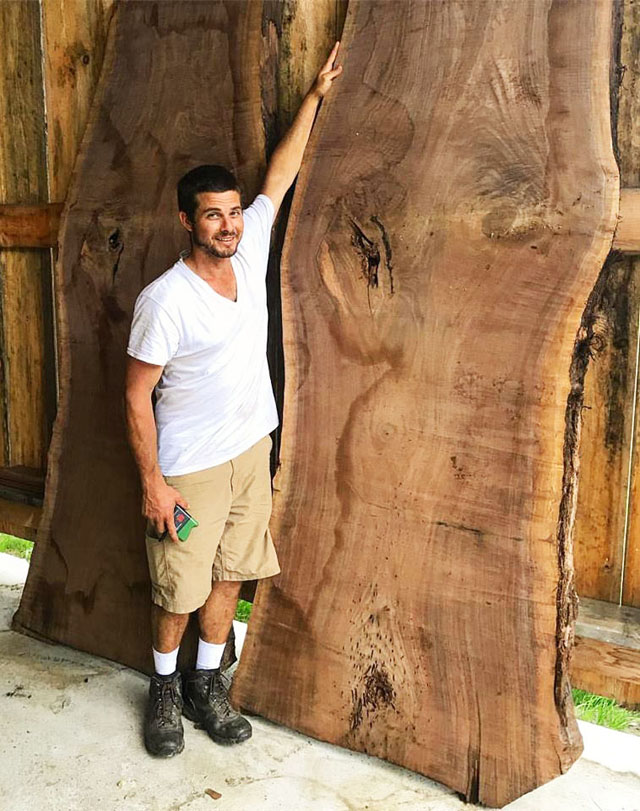 Woodworking partnership
My partner, Jeff Helm, and I run the farm's woodworking shop, Curiosity Woodworks. We've been friends for a decade and got into business together a few years ago doing odd carpentry jobs for my dad. I originally wanted to be an architect but found I enjoyed making things rather than planning them. Jeff's been a timber framer, builder, contractor, and furniture maker for years. We decided to go into a furniture business together."
"Both Erin and I build furniture," says Jeff. "We've discussed whether we should each specialize in one aspect of furniture making but we both ended up doing everything. We both design what we build using autoCAD and SketchUp 3D modeling software. And both Erin and I took intensive woodworking classes at Yestermorrow Design/Build School.
We see what the market likes and provide quality furniture at reasonable prices. I make a lot of tables in kind of a country cottage style with big rustic slabs. I also make Shaker-style and Dutch modern furniture. Chairs, benches, and so on."
Dad, an engineer, liked Woodmaster's 4-in-1 capabilities
"My dad bought the shop's 25" Woodmaster 725 about six years ago," says Erin. "He used to own a successful John Deere distributorship and is an engineer so he knows machinery. He really liked that Woodmaster has four capabilities in one — with its Pro Pack, it's a planer, molder, sander, and gang rip saw.
Jeff and I use the Woodmaster mostly for planing. Compared to the 14" benchtop planer we've used, this is much more powerful and cuts cleaner. We use it a lot making countertops, trim, and custom work. We've really put it to the test and it's just awesome."
Game changer
Jeff adds, "Planing wood with a Woodmaster changes the way you build furniture. We're very fortunate to have a machine this big and that works so well. We actually built our shop around the Woodmaster.
Erin's dad bought the helical Spiral Cutterhead with the Woodmaster. We love it! It cuts very smooth and clean. Depending on the wood you're surfacing, it leaves it quite smooth. I take off 1/16 to 1/8 of an inch per pass and it's fine. It's smooth and quiet. I just ran two 14' pieces of red oak and barely had to sand afterwards. I've put over 6,000 board feet through the machine in the last four years.
We'll definitely use the other ProPack features – sanding and rip-sawing because we do a lot of renovation. We won't necessarily make custom molding for builders, but maybe we will. We want to teach woodworking here, too. We're very flexible!"
Tips on creating a working partnership
Erin offers her experience as a partner in a growing woodworking business. "Jeff and I get along great. That's important. We're able to be adventurous woodworkers at Curiosity Woodworks but it's also taught us not to bite off more than we can chew. Everything we do is a mutual decision — or a group decision with the others at Curiosity Farms. We accept we won't necessarily know what's coming next but we keep working and supporting each other creatively. Nothing is without risk so have fun with it!
And make sure you have good working relationships with all your suppliers including your CPA and lawyer.
Jeff adds, "Enjoy what you're building and things work out better. There are resources on woodworking and running a business everywhere so use them. If you don't ask questions, the answer's already no. Take risks and follow your passions. And be prepared to work hard in a woodworking partnership like ours!"
Business Tips
"If you're thinking about getting a Woodmaster," says Erin, "buy it! Don't be afraid to invest in something like that for your business. But don't buy something cheap — you'll replace it 10 times.
Buy quality and it'll stand the test of time. Man-hours are a big deal in business and the Woodmaster is really a time saving machine. You sure don't want to spend hours doing something with a poorly made machine.
No mechanical problems
It's very easy to service this machine. You can take the hood off in a minute, by yourself, and reach everything inside. You have easy access to the belts, rollers, and head. I really like that it has two independent motors — one drives the variable feed belt and the other runs the cutting head.
This is a very good machine and we're grateful to have it. We haven't needed to call Customer Service for anything but we understand they're very good. The folks at Woodmaster obviously care about their product. Thanks for caring!
— Erin Bell & Jeff Helm, partners, Curiosity Woodworks, Barnard VT
SAVE BIG NOW on Woodmaster Molder/Planers – sale prices, online specials
SAVE BIG NOW on Woodmaster Drum Sanders – sale prices, online specials
QUESTIONS? COMMENTS?
3 WAYS we can help you!
• Call us TOLL FREE 1-800-821-6651
• Email us info@woodmastertools.com
• Connect with us on Facebook