I Started My Furniture Business With Just One Chair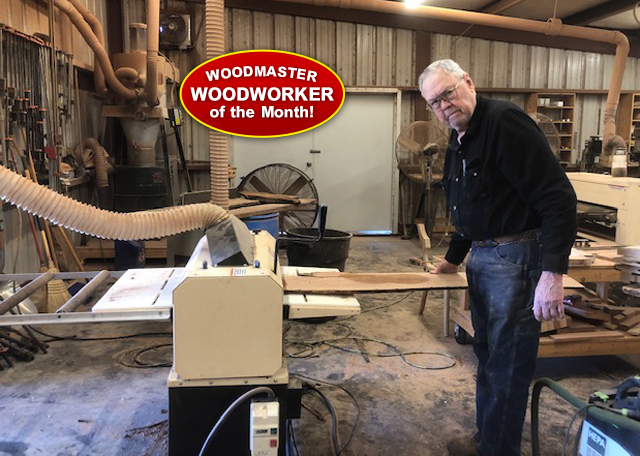 "I was a company employee for 20 years. Then I wanted to get into business for myself and ran a franchise business. I tried it for 5 years but found I was working 8 to 12 hour days and not really making anything. So I got some woodworking tools and started my woodworking business.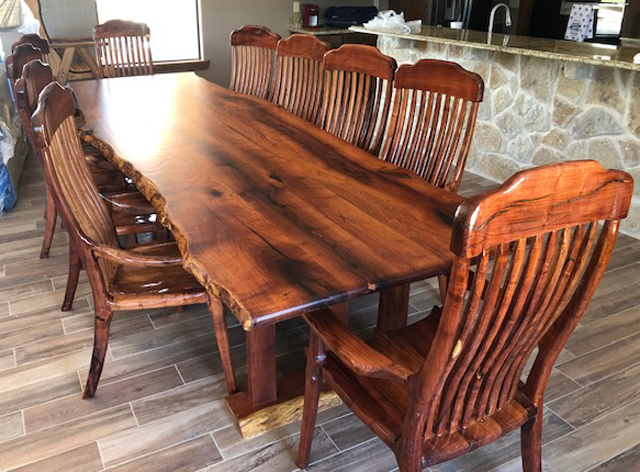 Now I'm 82 years old and I've been making and selling tables and chairs for about 20 years. I started making cutting boards and lazy susans and sold them through a retailer. When I told them I needed to get 10% more money for my work, they said they couldn't do it. I told them I couldn't do it, either and decided to sell my work myself.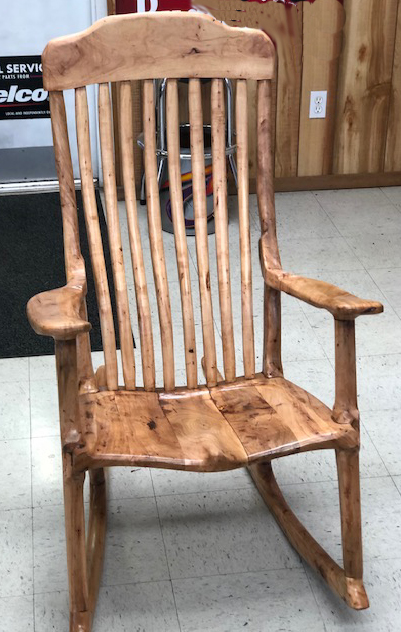 I took a course in making chairs and rockers. I made one and liked it so I made more. I've been making chairs and tables, chairs and tables, ever since. I learned a lot from that course and from watching online videos of how others make furniture.
It all started with one chair
A local lawyer saw one of my chairs and wanted to try it out. He tried it and wanted to buy it. He asked how much. I told him the price and he bought it. Then he ordered three more.
Later, he was remodeling an 1848 church into a home and told me he needed a table and chairs for his dining hall. He ordered a table 14' long by 42" wide, along with eight matching chairs. Then he wanted a 10' round table with chairs, and four or five bar chairs.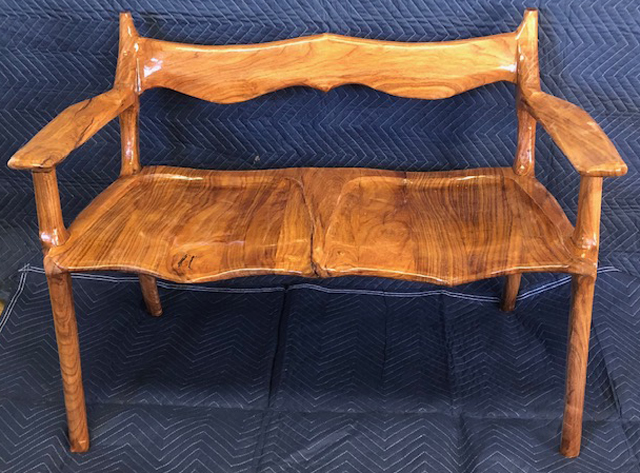 Then he built a house on the Texas coast and ordered an 8-foot table with six matching chairs. Then, lo and behold, he ordered six rockers from me!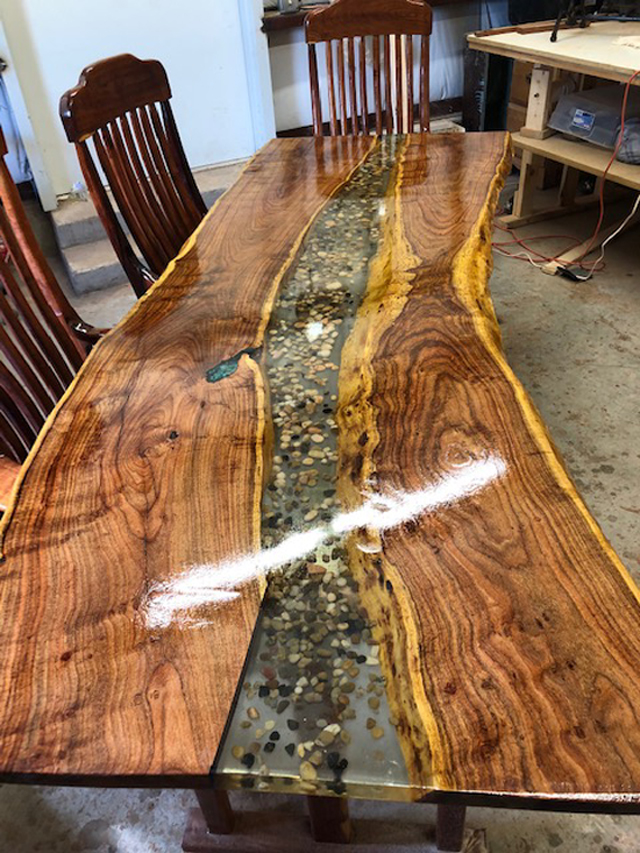 I've got all the work I can handle
These days I've got all the work I can take care of. I'm selling my tables and chairs all by word of mouth and at shows and marketplaces. One of them is the big Mesquite Arts Festival in Fredericksburg, Texas each October. And right now I'm building things for a big festival coming up in Kerrville, Texas.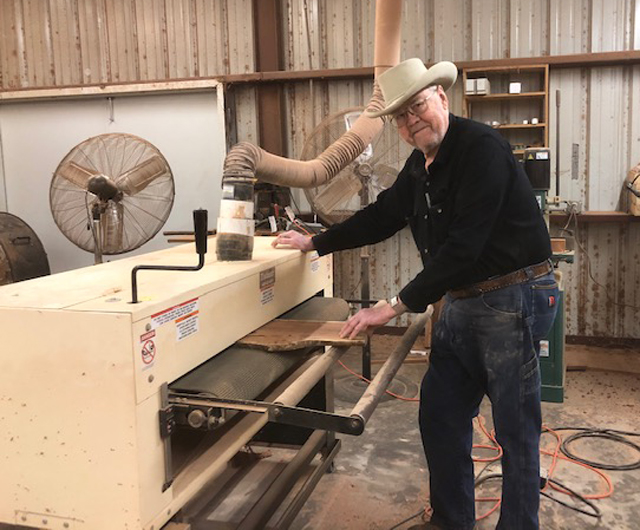 I enjoy what I'm doing
I enjoy what I'm doing and I always have. I used to cut my own trees, mesquite and pine. But these days I found a guy who cuts mesquite logs – straight ones, up to 12 feet long. That's hard to find. I buy them from him by the ton.
I saw the logs on my TimberKing sawmill and dry the boards in my dry kiln. Then everything goes through my Woodmaster Planer/Molder. When I need things sanded down, they go through my Woodmaster Drum Sander.
Bigger projects, bigger Woodmasters
About my Woodmaster Drum Sander, I had a 38" Woodmaster Drum Sander. Then I started making 40" wide tables and needed a wider sander. So I got Woodmaster's 50" drum sander. The boards sure come out nice.
And about my planer, I started with a 12" Woodmaster Planer, then the next bigger model. Now I've got the 25". 12" wasn't big enough so I sold it and bought the next bigger one. Now I've got the 25". And I just got a CNC machine I use for some of the inlay work I do.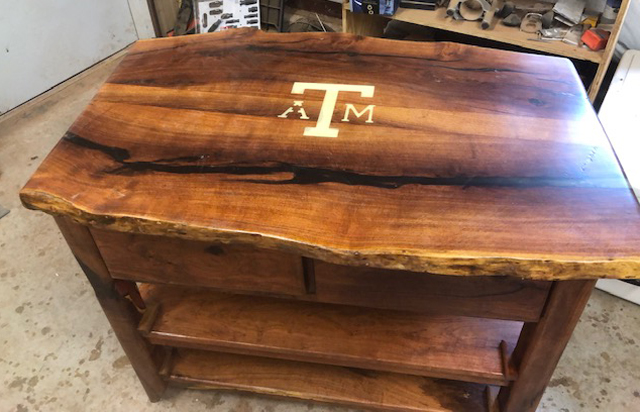 For the planer, I have the Woodmaster's spiral cutterhead. I love it and I use it a lot. It beats the hell out of using planer knives – it makes a very smooth surface. It has dozens of little carbide cutter heads, each with four faces. When one set of faces get dull, you just rotate the cutter heads. I've rotated one face so far. It was easy to do – my son did it for me! I've got the 3-Side Molding System for my planer but I haven't used it yet.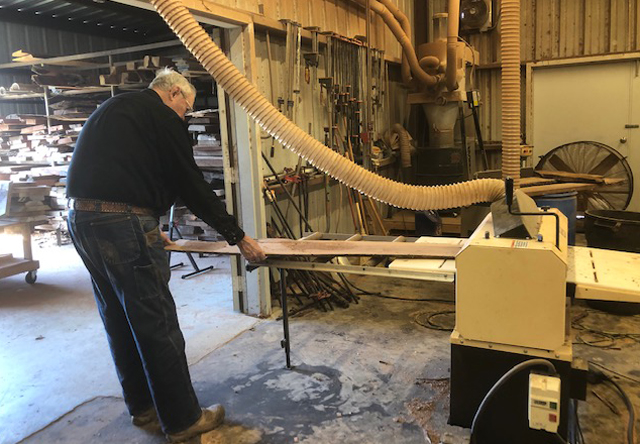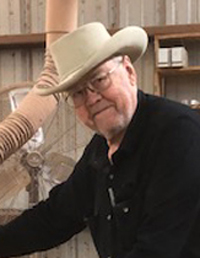 Everybody said, "Woodmaster"
I got going with Woodmaster 20 years ago. I didn't have a planer so I asked around and everybody said, "get a Woodmaster." So I did. These days, there's a lot of talk on online forums; people saying "I need a planer." Well, if you want a planer that'll last for years, get a Woodmaster. If you want a drum sander, get a Woodmaster!
I tried a Grizzly planer one time and it didn't last long. I didn't like it and I went back to Woodmaster. I love all the machines I got from Woodmaster!"
— Curtis Wiemers, Woodmaster Planer and Drum Sander owner, Hondo TX
SAVE BIG NOW on Woodmaster Molder/Planers – sale prices, online specials
SAVE BIG NOW on Woodmaster Drum Sanders – sale prices, online specials
QUESTIONS? COMMENTS?
3 WAYS we can help you!
• Call us TOLL FREE 1-800-821-6651
• Email us info@woodmastertools.com
• Connect with us on Facebook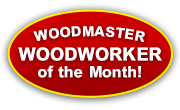 Would YOU like to be our next Woodmaster Woodworker of the Month?
Email editor@woodmastertools.com photos of you, your projects, and your Woodmaster, write a note about yourself.