Don Shares MAKING PERFECT PICTURE FRAMES SECRETS
"I'm a mechanic and I've been twistin' wrenches since I was nine years old. I'm retired now but I've built race cars, been an auto mechanic, and worked at car dealerships all my life.
My wife's my high school sweetheart. She's an artist and an art instructor. She does a lot of landscapes, flowers, animals; she does everything. She needed frames for her artwork and her students did, too, so I started making them using a router and a router table.
I'll tell you something funny about picture frames — when someone picks up a picture frame, the first thing they'll look at is the corners. If they're not a perfect 45-degrees, if the pieces don't line up perfectly, they say, 'No thanks.' I look at picture frames I made with a router and wonder how I sold them!
A while ago, I had a jointer I was selling. The guy who came to buy it looked at all my equipment and said, 'If you had a Woodmaster, you could get rid of half the equipment in your shop. And you won't need that router anymore.' I said, 'You mean this machine?' and I pulled out a Woodmaster brochure I'd sent for months earlier. Turns out he was right. I got a Woodmaster and sold my router and router table.
When I got out of the service, I did some carpentry work, but I didn't really have any real woodworking experience. But my wife needed picture frames so I started making them with my router. But it really didn't do a very good job. The Woodmaster does it perfectly. It self-feeds the wood through and you control the speed. I can slow it down (so it takes more cuts per inch) and there's barely any sanding necessary.
Production operation
I've got a real production operation in my shop. I buy rough-cut wood right from the mill. I plane boards from 1" thick down to 3/4" on my Woodmaster. Then I use Woodmaster's Gang Rip Saw to cut the planed board into blanks of whatever width I want. Then I put the blanks through the Woodmaster set up as a molder. From there, it's right to my chop saw to cut the 45-degree angles, and I put it all together. It's perfect. It's the best thing I ever invested in.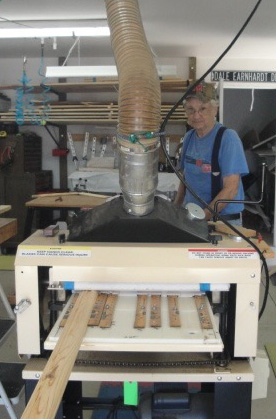 When I got the Woodmaster, I got it with the Two Slot Corrugated Head. I set it up with three different molding pattern knives, plus a rabbet knife, all side by side so I can run whatever I want without having to re-set the knives. As a matter of fact, I just ordered a second Two Slot Corrugated Head and I'll set that up with another three pattern knives plus a rabbet knife. So I'll have setups for six patterns and all I have to do is change heads.
SAVE BIG NOW on Woodmaster Molder/Planers – sale prices, online specials
SAVE BIG NOW on Woodmaster Drum Sanders – sale prices, online specials
The photos show how I mounted yardsticks as fences. I send blanks through and cut my rabbet, then flip the blank over and send it through to mold the other side. That's for molding. When I'm planing, I take that bedboard out and replace it with another without fences.
Scared me a little
I thought about getting a Woodmaster for about eight months before I bought. Spending $4,000 scared me a little since I'm not a cabinetmaker or anything. Now I only wish I'd bought it years ago!
I bought the midsized Woodmaster. I didn't want the bigger, 25" 725 because of shop space. And I didn't want the smaller, 12" 712 model. It's too small for me. The midsize is perfect and it works very well for me.
Before I bought my Woodmaster, I didn't understand how useful it is, how good something like that could be. It makes all the work I do about 90% easier and makes the quality 100% better than what I was doing before.
The factory's in a cave
I love this machine. I can't say anything bad about it. And it's great working with Mark at Woodmaster. He's explained a lot to me over the phone. He invited me to come take a factory tour when I'm in the area. I'd like to see the caves where they make them.
I'm selling frames now to artists and I want to expand this retirement business. So I have cards down at the American Legion. I'm friend of ours is painting a picture of an American Bald Eagle that'll be auctioned off to send Vets on Honor Flights to Washington D.C. I'm making the frame for the painting — that'll help get my name out there.
Next? Crown molding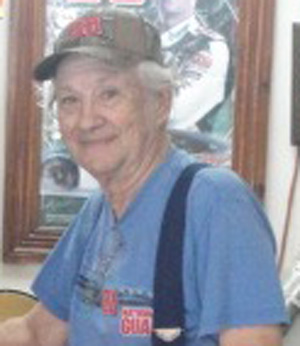 I want to get into making crown molding. A friend who works at Lowe's tells me there's only one other guy in my area who makes crown molding. Contractors are building thousands of homes in this area and I want to supply the crown molding.
I can't wait to get Woodmaster's Spiral Cutterhead and I'm looking at the 3-Side Molding System that goes on the output side of the Woodmaster.
I've worked all my life and I enjoy staying busy. If you're building something, your head is always thinking. You're never standing idle. With a Woodmaster and a little bit of knowledge, you'll do great."
— Don Miller, Woodmaster 718 Owner, Lady Lake FL
SAVE BIG NOW on Woodmaster Molder/Planers – sale prices, online specials
SAVE BIG NOW on Woodmaster Drum Sanders – sale prices, online specials
QUESTIONS? COMMENTS?
3 WAYS we can help you!
• Call us TOLL FREE 1-800-821-6651
• Email us info@woodmastertools.com
• Connect with us on Facebook