A drum sander's the only way to get this kind of precision
"My wife, Paula, and I call ourselves 'serious retired winter woodworkers.' We spend probably seven months out of the year building things in our home workshop. We're not in business and we don't sell anything. We don't have a website or any social media about our woodworking. We just do it for the love of woodworking.
We build all kinds of things. Some for ourselves and we give a lot of what we make to family and friends as gifts. We designed our home and built all the cabinetry – that saved us probably $35,000 to $45,000. We built two wardrobes for friends who own an old farmhouse. They're each 9' tall by 26" deep by 5' wide. One of our first projects was a pool table. We've built poker tables, a complete cherry bar, furniture, TV cabinets, wine cabinets, dressers, and even 5 sets of bunk beds for our 9 grandchildren at our family lake house!
Nothing as frustrating as equipment that doesn't work well
We own top-of-the-line tools because there's nothing as frustrating as tools that don't work well. That's why we have a 26" Woodmaster Drum Sander and a mid-sized Woodmaster Molder/Planer.
We avoid buying expensive lumber from big box stores. Instead, we start with rough-sawn hardwood lumber. We buy it from sawmills and we've even cut trees, had them sawn into boards, air dried them, and turned them into finished lumber with our Woodmasters.
Hand-sanding is my least favorite thing
I have to say hand sanding is my least favorite thing to do. That's why we got the Woodmaster Drum Sander. I chose the 26" model because, at the time, I couldn't imagine needing anything wider. And to this day, I've never wanted anything larger. Oh, I've gone as wide as 22" or 23" for bar tops. I've used big, industrial sanders and I've learned there are ways to replicate big machine results using the Woodmaster.
What I like about this drum sander is it's so darn dependable. The part I like best is how easily you can adjust the sanding depth. You just turn the crank and raise or lower the bed. The height adjustment screw is 16 threads per inch, so each full rotation of the crank changes the height 1/16 of an inch. A half-turn gives you 1/32" height change. A quarter turn, 1/64".
Precision to 0.005 – drum sander's the only way
I can get accuracy to 0.005 – that's five thousandths of an inch — with the drum sander. When I'm making cabinet door stiles, for example, I stand them on edge and put them through the sander all at one time. They come out precisely the same and the finished work looks so much better that way. A drum sander's the only way to get that kind of precision.
And I love the variable feed rate because not every piece of wood has the same characteristics. I can feed it fast or slow and adjust it as I go.
A hobby that got out of hand
This all started as a hobby that got out of hand. Paula and I are sneaking up on 50 years together. In our first home, we set up a small hobby area in a corner of the basement. We grew out of that and built a workshop addition. We outgrew that and built a new home with a hobby shop that's about 1,600 square feet.
We're in this together. Early on, we refinished her grandmother's old, 1920's secretary desk and learned we have similar interests in woodworking and doing-it-yourself. Paula's a pro finisher. She did finishing work for several big cabinet manufacturers, craftspeople, builders, and painters.
As for me, I first got interested in all this in junior high school where we had a good industrial arts program. And my dad was a better-than-average woodworker. I learned a lot from him. I'm a draftsman by education and I plan our all our projects on my CAD system.
And one other thing…
I talk up Woodmaster equipment every chance I get. Woodmaster's never let me down. And one other thing: woodworking's a great hobby during the pandemic!"
— Steve & Paula Elett, Woodmaster Owners, Angola IN
SAVE BIG NOW on Woodmaster Drum Sanders! – sale prices, online specials
SAVE BIG NOW on Woodmaster Molder/Planers! – sale prices, online specials
QUESTIONS? COMMENTS?
3 WAYS we can help you!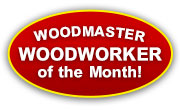 Hey, Woodmaster owners, YOU could be our next Woodmaster Woodworker of the Month! Email photos