WOODWORKER REINVENTS HIS BUSINESS – SURVIVES & THRIVES IN TODAY'S ECONOMY — A Pro Cabinetmaker & Vietnam Vet shares his hard-won experience
LIKE THE OLD SAYING, "WHEN THE GOING GETS TOUGH, THE TOUGH GET GOING," HERE'S ONE WOODMASTER WOODWORKER WHO DID JUST THAT. FACED WITH THE CHALLENGES OF TODAY'S ECONOMY, HE RETOOLED AND RESTRUCTURED HIS BUSINESS. AND TODAY'S BUSINESS IS GOOD.
"Even in today's economy, people are making a good living in woodworking and Woodmaster makes it possible with the right size and scale equipment.
Wide belt performance for a fraction of the oost
Woodmaster Drum Sanders may seem big to the average woodworker but I've used the biggest and best equipment there is so Woodmaster seems compact to me. But the end product is just as good as big, industrial equipment. It takes a bit longer on a Woodmaster than on a $100,000 machine but the savings in the cost of the equipment are well worth it.
At my business's peak, we were the largest custom cabinetmaker in Rhode Island, manufacturing case goods (cabinetry) for Dunkin' Donuts, Starbucks Coffee, and Honey Dew Donuts. My first sander was an industrial 37" Timesaver wide belt sander. Within a year, we needed to go to 3-head 53" wide belt sander.
He reduced costs while maintaining quality
With the onset of the current recession, we saw a decline in orders from those companies. We employed 40 people at our peak. Starting in 2007 we reduced employment to 6. We started getting back into custom kitchen cabinetry, still using the 3-head Timesaver. But just turning on the Timesaver for 20 minutes incurred a electric service and distribution charge of over $600!
That's when I went to Woodmaster. It's 500% cheaper to run. It runs on a 480V 3-phase motor and uses fewer amps. No air compressor, just a 3HP dust collector. My cost savings are 99%.
I'm 110% satisfied with the Woodmaster Drum Sander and its operating cost is 99% less. It doesn't cost $100 a belt like the Timesaver does. I don't have to fire up 100 HP worth of motors to run a single piece through. I don't have to run a 20HP dust collection system. I don't have to run an industrial compressor like I needed for the Timesaver. The Woodmaster is low monetary cost to begin with, low maintenance, and low operating cost.
SAVE BIG NOW on Woodmaster Drum Sanders! – sale prices, online specials
SAVE BIG NOW on Woodmaster Molder/Planers! – sale prices, online specials
I'm very happy. With a 50" Woodmaster, I can have 4 grits on the machine at same time, 1-foot wide each. Most raised panel doors are 24" wide so you could run two grits side by side if you wanted. Or I can run a 48" wide table through it. I run 100 grit on first head, 150 grit on second head.
Skilled workforce available
Because of the economy there are highly skilled people out of work. I bring in part time people, especially disabled vets. With the onset of Heroes Village, I'm going to give disabled vets and disabled civilians an opportunity to learn and work for a living in spite of their disabilities. I am in the process of starting a 501c3 company, Hope for Heroes, to assist both disabled vets and non-vets learn the woodworking trade in a classroom atmosphere, to prepared them for employment. (See Danté's biography, A Man on a Mission, below.)
I have no reason to fluff this story up. The Woodmaster company has far exceeded my expectations on service, sales, and everything else. I've bought over a million and a half dollars worth of equipment in my career and I'm amazed at what the Woodmaster will do if you keep it within its capabilities. I'll put Woodmaster machine up against any industrial machine in the world. It's easy to run, uncomplicated, safe, good equipment.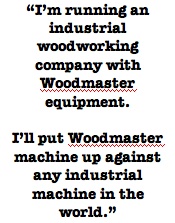 "I'd tell anybody…"
I'd tell anybody considering a sander, 'Don't look anywhere else but Woodmaster. Save yourself time and aggravation — I've done the research.' Woodmaster is an accommodating, considerate company. I have nothing but good things to say about them. My phone calls are returned, there's no 'press 1 for service' like with big companies.
If anybody deserves the Congressional Medal of Honor for helping small businesses it's Woodmaster because they go above and beyond the call of duty dealing with customers. They really keep the little guy happy. They're an American company that assists businesses. Thank God for Woodmaster!"
Dante's survival philosophy
"In 42 years as a professional cabinetmaker, I've had the best of the best equipment, the biggest of the big. Today I have Woodmaster because it fits today's woodworking economy. I have absolutely no regrets."
— Danté Grassi, CT Cabinetmaker, Woodmaster Drum Sander Owner
Danté Grassi…a man on a mission
Danté Grassi is a master craftsman who began his cabinetmaking and manufacturing career in 1973 for national and international clients including Starbucks and Dunkin' Donuts. Mr. Grassi is a graduate of both Northeastern and Johnson and Wales University. He served in Vietnam in 1968 through 1969 and is actively involved in veterans affairs, serving on the Advisory Board of ConnectVets and as Construction Manager of Heroes Village, a series of communities planned to offer affordable green housing for veterans and their families.
SAVE BIG NOW on Woodmaster Drum Sanders! – sale prices, online specials
SAVE BIG NOW on Woodmaster Molder/Planers! – sale prices, online specials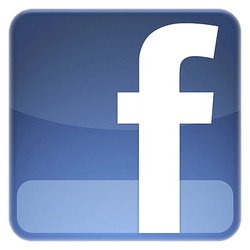 …And visit us on FACEBOOK, too!
QUESTIONS? COMMENTS?
3 WAYS we can help you!