WE QUIT SIX-FIGURE CAREERS to start our own woodworking business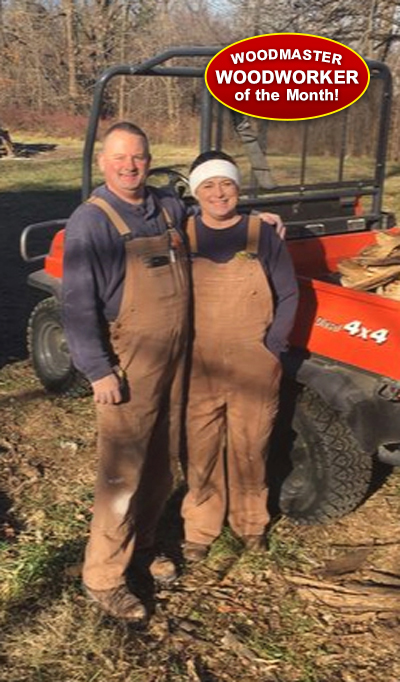 "My wife, Amy, and I left 6-figure careers to start our own hardwood products business with Woodmaster equipment. We both worked in the insurance industry – I was a Class A General Contractor doing insurance restoration and Amy was a director of marketing. We got tired of making money for other people and wanted to start making money for ourselves.
Being in this industry for over 30 years, we know all kinds of contractors and subcontractors. And we know what they need for flooring, molding, casing, and all kinds of hardwood products.
For example, we have a business associate who deals in hardwood flooring. He's told us he'll buy all the hardwood flooring we can make. And he's a man of his word. We told him, 'Get ready, we're going to bury you with hardwood flooring!'
The phone's blowing up
We planned our move for two years and got our equipment all set up. Then we gave our notices. Business is great and the phone is blowing up! The future is looking rosy. We took a leap of faith to start this business but we believe in Woodmaster's products and in each other. We're both very self-driven and have a lot of grit. We work at home and there are times we work until midnight. There's something very good about being your own boss.
We really don't do any advertising. This is taking off by word of mouth. For example, we supplied hardwood to a contractor we knew and he loved it. He told another project manager an he's started calling us now.
3 Woodmasters…may add another
We have three Woodmaster Molder/Planers: a 25" 725 and two midsize-models. We keep the 725 set up as a dedicated planer. One is set up as a dedicated molding machine. And another has the 3-Side Molding System attachment on it. If business grows, and we think it will, we may add another Woodmaster. We also have a TimberKing 1220 sawmill!
We love the Woodmaster's 3-Side Molding System. To make our flooring, for example, we'll put a hardwood blank through the machine and it cuts three sides in one pass: the tongue, the groove, and the back relief cut.
With the Woodmaster we have set up as a molder, we have Woodmaster's high-production C2 molding head and we make crown molding, baseboard, chair rail, and more. We have Woodmaster's helical Spiral Cutterhead, too. It creates a really smooth finish and it runs quietly. It doesn't chatter and it works very efficiently.
Planed 1,000 board feet of hardwood in 4 hours
We have a couple of nephews on standby for weekends and evenings when we get really busy. And our daughter, Courtney, comes in and helps, too. We had a big order recently so Courtney and Amy planed over 1,000 board feet of random width hardwood in about four hours.
I'm one who believes bigger equipment is better. For us, the 12" Woodmaster isn't wide enough. We got midsize Woodmasters because they're bigger, wider, and heavier. I like the 725 because it's got the massive, farm-rated, 7.5HP motor. Amy and Courtney planed 14" wide boards with it and it all went through like butter.
Woodmaster guys are great
The sales guys at Woodmaster have been great. I have to tell you Jake has been incredible. I can't say enough good about him. We've developed a personal relationship so when I call and talk with him, he gives me tips and tells me how to fix things.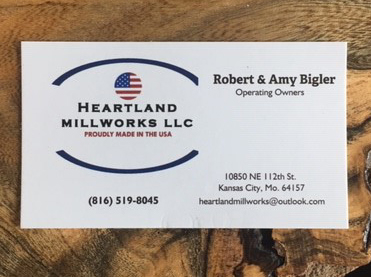 Bomb-proof
Woodmaster's equipment is bomb-proof. It just lasts and lasts. It's all strongly built. And because Woodmaster and TimberKing are sister companies, they have the same customer service policy – they both take care of their customers. If someone asked me, I'd recommend their machines because they're so well built, the customer service is excellent, and they're made in the USA.
People have to have grit and guts to make a move like this. But if you have faith and drive, you can do anything!"
— Robert & Amy Bigler, Heartland Millworks, Woodmaster & TimberKing Owners, Independence MO
SAVE BIG NOW on Woodmaster Molder/Planers – sale prices, online specials
SAVE BIG NOW on Woodmaster Drum Sanders – sale prices, online specials
QUESTIONS? COMMENTS?
3 WAYS we can help you!
• Call us TOLL FREE 1-800-821-6651
• Email us info@woodmastertools.com
• Connect with us on Facebook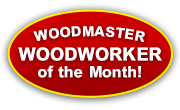 Would YOU like to be our next Woodmaster Woodworker of the Month?
Email editor@woodmastertools.com photos of you, your projects, and your Woodmaster, write a note about yourself.