TOM BUILT HIS RETIREMENT HOME WITH A WOODMASTER PLANER
"I inherited my dad's trait of doing it myself and conserving money when possible. It's frustrating to pay someone to build what you can build yourself." — Tom Harger
I grew up on a farm. My dad was a dairy farmer and raised some beef cattle. His philosophy was to fix something himself before he called anybody in to fix it. He'd take neighbors' machinery when they got rid of it, fix it, and use it. That's what I grew with. I've always been handy and I guess I've inherited his trait – to do it myself and conserve money when possible. It's frustrating to pay someone to build or do what you can do yourself. For example, I built a dry kiln for lumber out of an old school bus. It has solar heat in the day and a dehumidifier at night. It works pretty well.
I built our dream home in retirement
I built our home using my Woodmaster Planer to plane all the beams, posts, decking, and paneling. I made total of 11,000 board feet of tongue and groove boards for the decking. I made over 5,000 board feet of interior wall paneling from red and white oak, pecan, cherry, hackberry, honey locust, walnut, and eastern red cedar. I could not have done it without my Woodmaster Planer.
My wife and I have lived in several places and have owned several homes. You can make an existing home your own but we always dreamed of building a home the way we wanted to. I've built barns before and I knew I could do it.
A bargain considering the cost of lumber
Today we own 120 acres in a rural area. We decided this is where we'd move and build our retirement home. I bought a CAD program to draw plans. I cut brush, put in a half-mile waterline, built a bridge over a river, felled trees, sawed them into boards, and got a Woodmaster Planer. I considered it a bargain considering what lumber would have cost us.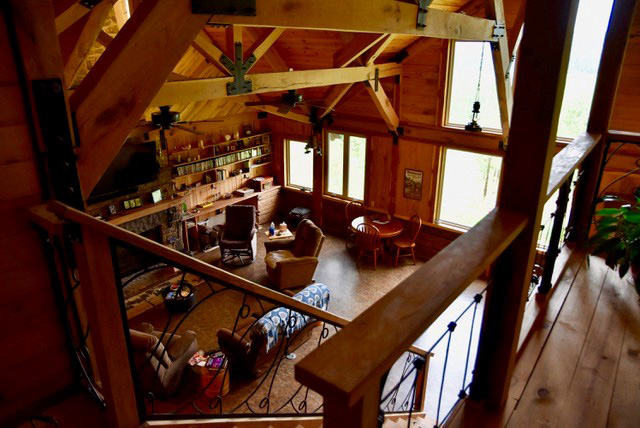 I wanted wood paneling throughout the home's interior. I knew I'd have to have a planer because I wanted the paneling to have a smooth finish. So a planer was part of the plan all along. I looked at Woodmaster and a few others and what sold me on Woodmaster was a couple of the add-ons. I saw that I could make tongue and groove decking in one pass with the 3-Side Molding System.
And the Spiral Cutterhead would create a smooth surface. My boards had a lot of knots and that would have meant a lot of sharpening planer blades. With the Spiral Cutterhead, if I hit a knot, all I had to do was turn one of the hundreds of 4-sided cutters 90-degrees to a new face. I also got the Pro Pack with its drum sander and gang ripsaw.
"Wonder if I can plane 20' beams?"
I had cut and stacked my beams 6" x 10" x up to 20' long. I had a tractor with loading forks, the Woodmaster, and long roller ramps. I thought I'd try putting the beams through the Woodmaster and it worked well. They were mostly red oak with some white oak and ash. In all, I made 10 trusses with 10 beams each. I made posts, too, or about 150 beams and posts in all. I welded up Y-shaped, 1/4" thick steel plates to join everything together.
We still have a few things we're finishing up on this house. But I don't want to just sit around in the future. I've got more trees and I've thought I might turn some into lumber to earn some extra money. When I look at the lumber prices at Lowe's, I know I could make some money.
Heavy use, almost abuse
I think the Woodmaster is an excellent machine. It's stood up to my heavy use, almost abuse. It's rugged, it's worked well and held up well. It's impressive that you can take an old oak log and transform it into something beautiful. Yes, I recommend the Woodmaster Planer."
— Thomas Harger, Woodmaster Planer Owner, Havana AR
SAVE BIG NOW on Woodmaster Molder/Planers – sale prices, online specials
SAVE BIG NOW on Woodmaster Drum Sanders – sale prices, online specials
QUESTIONS? COMMENTS?
3 WAYS we can help you!
• Call us TOLL FREE 1-800-821-6651
• Email us info@woodmastertools.com
• Connect with us on Facebook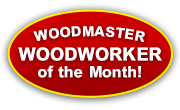 Would YOU like to be our next Woodmaster Woodworker of the Month?
Email editor@woodmastertools.com photos of you, your projects, and your Woodmaster, write a note about yourself.