Tamarack Knees and a Woodmaster Molder/Planer — Josh's boat shop tricks
"I was born and raised in Wisconsin. I live on the water, way up in the hinterlands of northern Wisconsin, on the south shore of Lake Superior.
I've always been into woodworking. Even when I was a kid in high school I had a workshop set up in our basement with a set of Marples chisels, an old Delta 9" bandsaw, and a drill press.
Love unexpected
I lived in Rhode Island for a while and took a two-year apprenticeship in boat building and restoration. I did it thinking boatbuilding skills would be transferrable to other kinds of woodworking. But it turns out I fell in love with the rules and techniques of boatbuilding. I find it's more satisfying to work with curves than to build cabinetry for example. And nothing is as satisfying as building a boat then taking it out on the water.
I've operated JW Swan Boatworks since 2004. I build, fix, and restore boats. I don't do a lot of marketing. I have mostly repeat customers through word of mouth.
Harvesting wild tamarack knees
A growing part of my business is making and selling TAMARACK KNEES to other boat builders. What are tamarack knees? Tamarack is a tree that grows in swamps and bogs. It's a deciduous conifer with big, shallow roots that grow parallel to the ground. Together, the root and the trunk form the shape of a bent knee. I cut these 'knees' in local bogs and saw them into l-shaped slabs.
Boat builders use my tamarack knees to make boat ribs – or 'frames' as boat builders call them. Many find it faster, easier, and more satisfying to cut solid wood frames out of tamarack knees than to laminate them with epoxy and strips of wood.
Variable feed rate tames wild grain
I plane these knees with my Woodmaster Molder/Planer. Its variable feed rate makes a big quality difference because the knees' grain runs in every direction. As I plane a knee, I speed up and slow down the feed rate as needed. I can see the wood as it's progressing through the machine and I tweak it on the fly.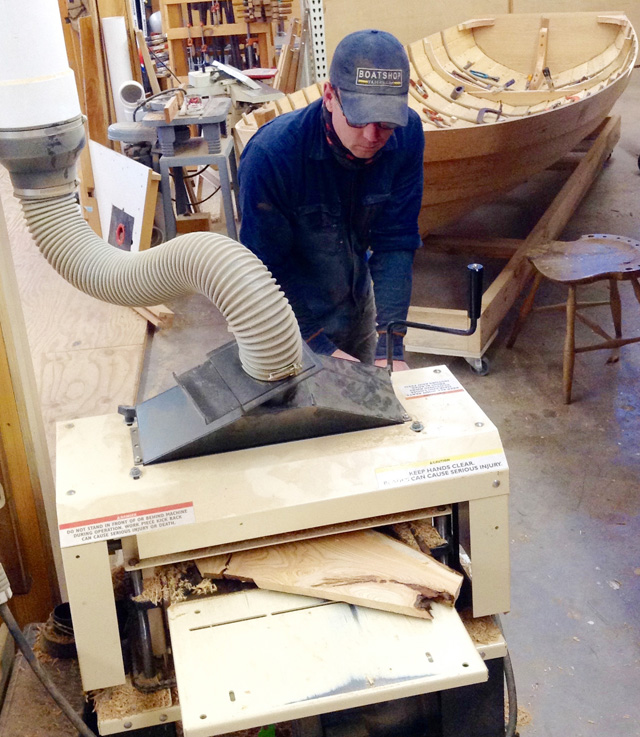 I had a 12" 'lunchbox' planer and knew getting something bigger would be a good idea. I needed something wide with decent weight to do the work I do. This Woodmaster just chugs along. And it's fun to run.
When I buy equipment, I generally get the midrange model, not the biggest and fanciest. So I got an 18" Woodmaster. I have it set up as a planer. I'd like to get another one and set it up with its drum sander attachment. Having two Woodmasters would make sense, especially if I'm doing a volume of work. They're reasonable and a really good value. I may even be interested in a standalone Woodmaster Drum Sander. And I'd like to get one of Woodmaster's Spiral Cutterheads.
Skeptical of combination machines but…
I'm naturally skeptical of combination machines. But I read a revue of Woodmaster in an issue of Wooden Boat magazine long ago. It gave good anecdotal evidence on how this machine is handy and versatile in a boat shop. I got Woodmaster's information packet and ended up buying one.
This is a pretty bulletproof machine. It has a Leeson motor I've abused and neglected. It's all dusty but it works great. Clearly, the Woodmaster is designed well and is structurally fine. I like it. I'd buy it again.
Coming up, I'll be doing repair work and building two new 14' dory boats. Then I have standing orders for tamarack knees. One order's for bracing for a timber frame home being built in New Hampshire. Then on to more boatbuilding projects!
— Josh Swan, Woodmaster Owner, JW Swan Boatworks, Washburn WI
SAVE BIG NOW on Woodmaster Molder/Planers – sale prices, online specials
SAVE BIG NOW on Woodmaster Drum Sanders – sale prices, online specials
QUESTIONS? COMMENTS?
3 WAYS we can help you!
• Call us TOLL FREE 1-800-821-6651
• Email us info@woodmastertools.com
• Connect with us on Facebook