Old World Woodworker says, "IF YOU WORK HARD IN AMERICA, YOU WILL MAKE IT. NO OTHER COUNTRY IS LIKE THAT"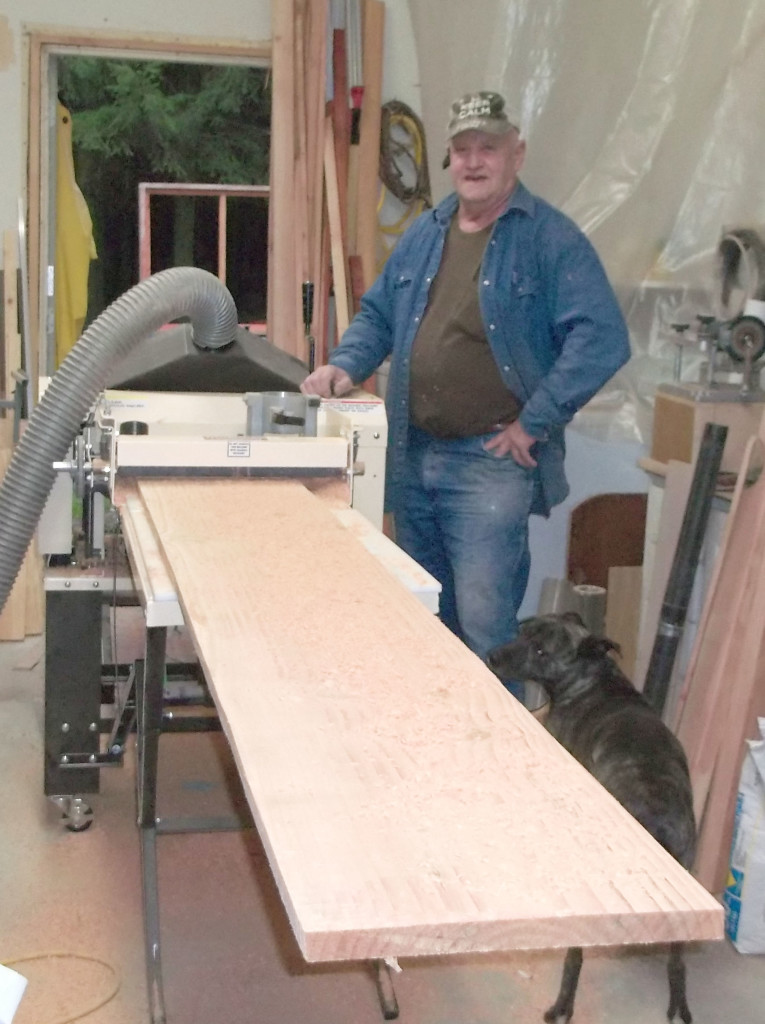 If you put your back into it, you can make it in America. That's the American Dream and it's coming true for millions of American woodworkers. Here's an inspiring story of a post-WWII German immigrant – an old-world craftsman – who grew up appreciating the value of work. These days, "Nick" Schwickerath is completely renovating his home with his Woodmaster Molder/Planer. His dream? Starting a woodworking business in retirement.
SAVE BIG NOW on Woodmaster Molder/Planers – sale prices, online specials
SAVE BIG NOW on Woodmaster Drum Sanders – sale prices, online specials
"I was born in Germany at the end of World War II. I immigrated to America 45 years ago with a degree in Electrical Engineering. Over the years in the United States, I added Mechanical Engineering and a Masters Degree in Biblical Teaching. But woodworking has been my passion since the age of 12.
I learned woodworking after World War II from master woodworkers in a shop down the street from me. They did everything by hand and with machines driven by waterpower. The men there were true professional craftsmen and worked very hard. I learned a lot from them and from my father who was a machinist and a hands-on guy.
In 1976, I moved to America where there is lots of opportunity. If you work hard, you will make it. No other country is like that.
On your Woodmaster blog, I saw the article about the woman woodworker who's starting a business. My hat is off to that woman. I respect people like that.
Three years ago, I bought a vacant house. The structure was good but everything else was run down. The kitchen was 100 years old! I ripped out everything. I had a Ryobi® 12" planer but using it was like pulling hair. I looked at the Woodmaster website and saw all its attachments and 4-in-1 capabilities. I got a mid-size Woodmaster Molder/Planer. It keeps my hands safe.
"I only wish I'd gotten a bigger Woodmaster"
Besides the Molder/Planer, I bought Woodmaster's 3-Side Molding System, the system with two inline routers. It's unbelievable what you can do with it. I saw it online and the light went on. I said, 'I'm going to get it!'
Today, I'm making interior and exterior doors. I'm making each one in one-quarter the time it takes with a router and by hand. I only wish I'd gotten the bigger 25" Woodmaster.
Like a kid at Christmas
I'm expecting another shipment of parts from Woodmaster, I am waiting for it like a little kid on Christmas! I also bought a Freud router bit set to make interior and exterior doors. That is what I am building now, wooden windows and doors. I can do it with the Woodmaster, and with a lot less effort and more precision than with a hand router.
Here in Washington State, buying finished lumber is very expensive, but not for me thanks to having a Woodmaster.
Next, a retirement woodworking business
I've made my house livable and I've done it all myself, nobody else. I'm taking it room by room. When I'm finished, this will look like a log home. I'm making log cabin siding with my Woodmaster and Log Cabin Siding knives. My intention is to eventually go into a retirement woodworking business and make money with my woodworking.
The Woodmaster is extremely functional, an extremely good machine. You can make any kind of trim, even custom profiles with knives and patterns not shown on their knife website.
No other machine out there can do what the Woodmaster does. I looked at many online and narrowed it down to Woodmaster. I work with a lot of fir and that's a hard wood to plane without creating tear out. Joe in Sales at Woodmaster suggested their Spiral Cutterhead. I ordered one and even wood that's moist comes out unbelievably smooth. It looks like you'd just sanded it. The grain is gorgeous.
I also got the Super Pro Pack. It has everything I need. I used to use a palm sander; now I set up the Molder/Planer as a Drum Sander. I've been running it for days on the same paper.
"I give Woodmaster a 10. That's my strong opinion!"
I give Woodmaster a 10 out of 10. As soon as I got it, I started using it seven days a week and I can build what I want to. If you're a woodworker, you'll begin to realize what I did: there's nothing better out there than Woodmaster. That's my strong opinion and I put my name on it!"
— Werner "Nick" Schwickerath, Woodmaster Molder/Planer Owner, Humptulips, Washington
SAVE BIG NOW on Woodmaster Molder/Planers – sale prices, online specials
SAVE BIG NOW on Woodmaster Drum Sanders – sale prices, online specials
QUESTIONS? COMMENTS?
3 WAYS we can help you!