MAKING VICTORIAN GINGERBREAD TRIM with a Woodmaster Planer
"In 1980, I started a woodworking business – Splinters and Sawdust — making toys and gifts, and selling them at all kinds of craft fairs and shows. I was buying 25 different species of fancy hardwood lumber. I couldn't afford finished lumber so I bought it in the rough. I already had my 12″ Woodmaster Planer and planed the rough lumber myself.
50 years making fretwork
It turned out to be hard to make any money at this. Costs were high and there was a lot of competition. So I closed up my toy and gift business and went into full time business doing something I'd been doing for over 50 years – duplicating and recreating original ornamental trim, or fretwork, often called 'gingerbread,' for the old Victorian homes here in Oak Bluffs, Massachusetts, on Martha's Vineyard.
This town was called Cottage City up until 1907 when it was renamed Oak Bluffs. My parents bought a summer home here in the 1950's and I spent every summer here growing up. Now I live here full time. When I was 14, I made fancy gingerbread trim for that home's roofline by hand with a coping saw. My dad painted it and put it up. These days, I use a scroll saw.
I turn balusters, make railings, all kinds of fancy trim, and create what I call 'flats' – the decorative fretwork you see on historic Victorian homes here on Martha's Vineyard, in San Francisco, and other places. That's my specialty.
Patterns researched using antique postcards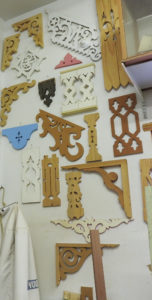 People bring in gingerbread for me to duplicate so they can replace it on their home. And I often refer to old photographs, postcards, and even old, original stereoscopic (stereo) postcards of old Oak Bluffs homes to develop patterns or duplicate old ones.
My 12" Woodmaster Planer is a real workhorse for me. I use it to get the wood I'm using to the exact same thickness of the original I'm duplicating. I take it slow and the surface comes out beautiful.
30+ years on original belts
I saw it advertised in one of the woodworking magazines and bought it from the factory in the 1980's, maybe even in the late 1970's. I got a Woodmaster because I thought it was the best planer out there, and I still think it is. That's why I keep it. The only maintenance I've done is putting on new rubber feed rollers. It even still has the original belts on it.
It has a very low serial number. It's over 30 years old and it works great. It's rugged and heavy duty. There's nothing cheap about it. 30 years and it's still accurate. It's 12" wide and fits everything I do. I'll never get rid of it!
Gingerbread Man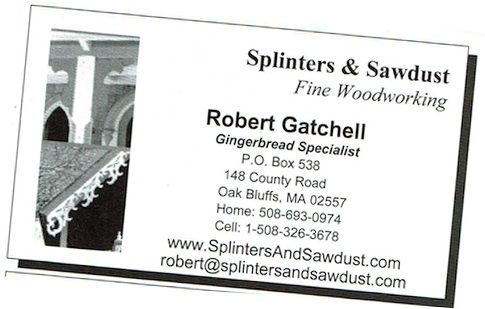 I'm the only one on Martha's Vineyard who does this kind of work. They even call me 'The Gingerbread Man of Martha's Vineyard! My shop's open for anybody who wants to come and take a look."
— Robert Gatchell, Woodmaster Owner, Splinters and Sawdust, Martha's Vineyard MA
SAVE BIG NOW on Woodmaster Molder/Planers – sale prices, online specials
SAVE BIG NOW on Woodmaster Drum Sanders – sale prices, online specials
QUESTIONS? COMMENTS?
3 WAYS we can help you!
• Call us TOLL FREE 1-800-821-6651
• Email us info@woodmastertools.com
• Connect with us on Facebook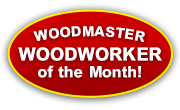 Would YOU like to be our next Woodmaster Woodworker of the Month?
Email editor@woodmastertools.com photos of you, your projects, and your Woodmaster, write a note about yourself.