MAKING MONEY THREE TIMES OVER — Restoring our 1860's Victorian mansion with a Woodmaster Molder/Planer
Sometimes, the first task in a home remodeling job is undoing the "remuddling" someone else did years earlier. That's where Jim and Lynn started when they tackled the historically-accurate restoration of their 1860's Victorian home. With a little help from their Woodmaster, their "Lady in Need" is now revived as a "Lady Indeed."
"In mid-1990, we purchased our pre-retirement project, a "Lady in Need" 1860's Victorian. The upper floor is a rental with original 1860's floors, walls, and moldings. The first floor had been 'renovated' in the 1970's. After we removed the shag rugs, dark paneling, and some walls that had been added in the '70's, we did a detailed financial statement including a return on investment (ROI) analysis. We found that taking out and repaying loans and hiring carpenters would not fit our budget.
SAVE BIG NOW on Woodmaster Molder/Planers – sale prices, online specials
SAVE BIG NOW on Woodmaster Drum Sanders – sale prices, online specials
Saving Money means Making Money (three times over)
In one of the magazines we subscribe to, we found advertisements about Woodmaster Molder/Planers. After an analysis on several molder/planers, we decided on Woodmaster. We are proud that we purchased a tool that's made in America. Additionally, we found that the knife patterns we needed to renovate the 1970 'ambiance' back to the 1860's are available through Woodmaster. Well, what to do next was a no brainer.
We also decided that 'making money and saving money,' for us, are the same! If we do the work ourselves, make all the molding ourselves, it will save us a lot of money. We estimated that the money we saved with the Woodmaster would pay for it at least three times over the original price. Several weeks later, Lynn, my wife/designer/expeditor ordered the Woodmaster 725 and the appropriate knives to initiate the renovation.
We found that here, in Wisconsin, oak is easier to find and in some cases cheaper to buy than pine. Well, oak it was! After numerous calls to lumberyards, wood wholesalers, and folks who just cut down trees, we found a wholesaler of kiln dried oak. The price was right so we ordered our first load of the best kiln dried oak we could find. It nearly filled a semi truck! It came from trees that were downed in storms or that homeowners had professionals remove.
The 725 arrives!
Well, the 725 Woodmaster Molder/Planer arrived at the trucking distribution center in Milwaukee so off we went to bring it home. The forklift placed it in the middle of the bed of our truck and to my surprise, the truck did not even flinch.
Off we cruised to Belleville to offload it and get our restoration started. With the help of our neighbors, we offloaded the boxes and put them in the garage. I had all the wiring installed weeks earlier, so everything was ready. I now had a made-in-America Woodmaster 725 Molder/Planer, and a lot of boxes to open. Christmas came in July for sure! After a few days of reading and re-reading the instructions, I literally and figuratively tore into the boxes and started putting it together. It was easy.
Day one on becoming a pro on my 725
I carefully selected a scrap piece of oak. It had a few tight knots so I figured that if I make a mistake, I would not be wasting any of the good stuff. I turned the molder/planer on, but avoided turning on the vacuum system. I figured I would be scared enough with the sound of the molder/planer without having the vacuum going. After flipping the switch, the 725 was humming away with no vibration and no parts flying off. I turned on the roller drive and again nothing flew off at me. I grabbed that piece of oak, ran it through a couple of times, adjusting the bed's height until the rollers firmly grabbed it. By that time, I felt like a true dyed-in-the-wool operator. I tightened up the rollers one full crank, put the oak in, grabbed my coffee, crossed my fingers and waited. The oak rolled through, but the planer knives never touched the wood. I cranked the roller one more full crank, turned the speed to 30, crossed my fingers, grabbed my coffee then heard the knives making contact with the wood and not with me. The oak looked pretty as it exited the out-feed of the planner. IT WORKED!
Now that I was a certified pro with two minutes of experience, I again raised the bed one-half turn, inserted the oak and the machine just hummed. Now that I had three minutes of experience, I cranked the roller another half- turn and inserted the oak. Yep, the machine hummed until one of the knots in the wood let go and then BANG, it sounded like someone had shot me. I turned off the machine, caught my breath, and as I had no pain and no traces of blood, I investigated what happened. Yep, one of the knots had broken loose. I now had four whole minutes of experience. I was on a roll. In the years to come, I would look back at that experience as my initiation into the craft of woodworking.
"Lady in Need" superseded by Hurricane Katrina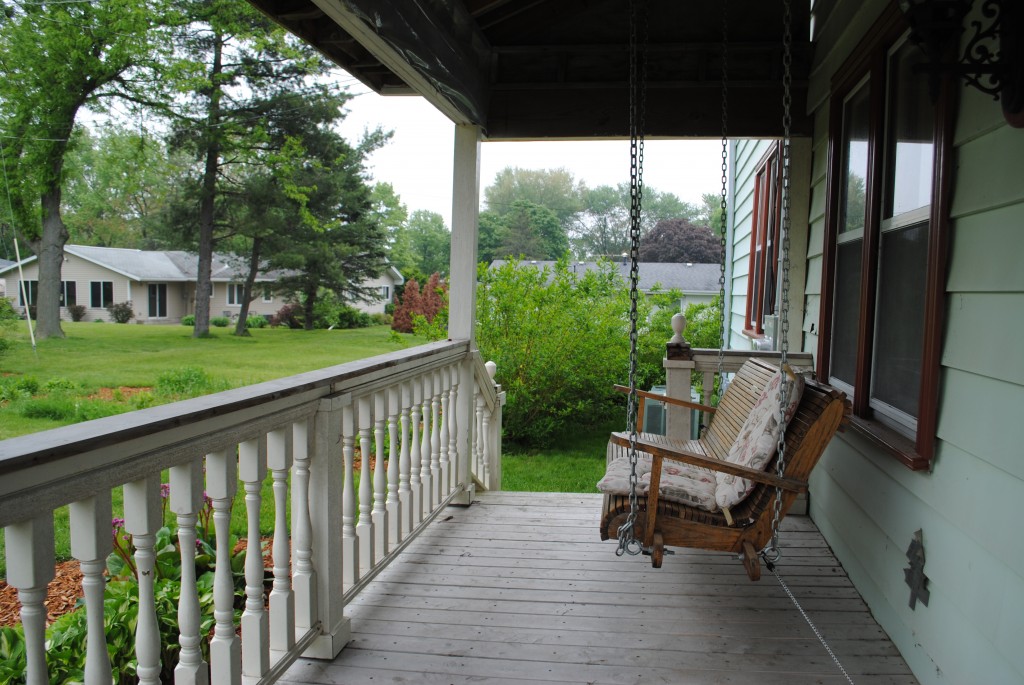 Post Katrina, our restoration project continued.
Over the past 10 years, I replaced a roller and a drive chain on my 725 and that is it. My machine has NEVER been inoperative. I have some of my molding knives sharpened yearly, and I have my planer knives sharpened about three or four times a year. I have replaced my planer knives three times, because I run the planer between six to eight hours a day on weekends and three to four hours nightly.
Why do I run it so much? I have created many hundreds of board feet of Crown Molding, Picture Molding, Chair Rail, Wainscoting, Casement, Baseboard, Plinth Blocks and Quarter Round. I also built my porch swing, two arbors, two yard benches, and six Adirondack chairs. When you have the right tool (Woodmaster 725) and several how-to books, you can build anything.
In 2012, I built a 12' x 8' x 13" bookcase using my Woodmaster 725 Molder/Planer. In addition, because all the existing oak flooring was severely damage, I created over 2,000 square feet of flooring. I installed all the molding and the flooring! Try to find a square corner in a 140-year-old house with a log foundation. This is also the timeframe when I started using different knives to make unique molding to use around my windows and the bookcase. You need to try this!
Daren and the 725
For a little over a year, I was too ill to do any work on the house or use the 725 so a friend of mine, Daren Pautzke (right in picture), asked to learn how to run the machine. I taught him everything about the machine including how to tune it up and replace parts. He ran the planer six days a week for one complete summer. Then I had him start creating additional molding that I mentioned above. Fortunate for me, he is an extremely detail oriented person. He is considering starting a business using the 725. OUR WOODMASTER 725 MADE US MONEY BY SAVING US MONEY.
Why are we doing this?
If you are wondering why we put so much effort into restoring this 'Lady in Need,' about a year after purchasing the 725 we decided to use our home as a vacation rental, which it is now. We call it 'our guaranteed 401K retirement plan'. We are the owner operators of 'Whisper Rock Victorian Dreams Vacation Home,' a lakefront property in Belleville, WI. If you have any questions about how we did it, call us.
Are you wondering why someone would want to rent our beautifully restored vacation rental? Well, among other things, we have a haunted home with a long ghost log on our website. In addition to that, we have, per the Wisconsin Historical Society, a property where they found artifacts of a Native American encampment where numerous burial mounds exist. If that is not enough, we have found artifacts in our attic that suggests that our home, at one time, was a station for the Underground Railroad. Add that to the 725 custom molding, flooring, antiques and a large wrap-around porch, and it is an exceptional Vacation Rental thanks to my Woodmaster 725 Molder/Planer. Thanks Woodmaster!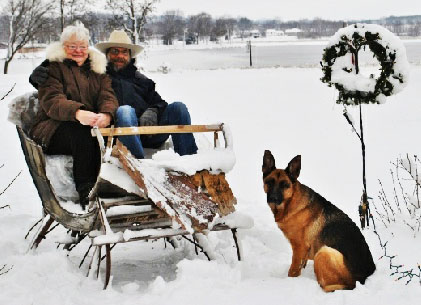 — Jim Magrone & Lynn Owen, Woodmaster 725 Planer/Molder Owners
Whisper Rock Victorian Dreams Vacation Home, 140 River St., Belleville Wisconsin, 53508