MAKING ADIRONDACK STYLE FURNITURE with a Woodmaster Drum Sander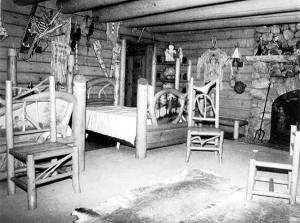 Established in 1892, the Adirondack Park in northeastern New York State is over 6 million acres of pristine, mountainous wilderness with dozens of mountains, over 3,000 crystal clear lakes, and more than 30,000 miles of sparkling waterways. It's twice as big as Yellowstone, Yosemite, and Grand Canyon National Parks…combined!
It's also the birthplace of rustic, decorative Adirondack Style furniture made of native woods, saplings, birch bark, and more. Distinctive and ruggedly handsome, Adirondack Style was created by early 1800's settlers who built and furnished their cabins with what was available. Today, the style is perfected and popularized by skilled craftsmen like Richard Vega, woodworker, artisan, and Woodmaster Drum Sander owner.
"I build high quality, rustic, Adirondack Style furniture — tables, cabinets, chairs, and more. I use different grades of woods; red oak, white oak, curly maple, pine, cherry, and exotic woods, too. We're a small, mom-and-pop, internet-based business but my customers are hotels, restaurants, and celebrities including a major movie director. I've built a lot of furniture for a big hotel at a Six Flags amusement park. We do business with decorators in New York City, California, the Midwest. We have a big project coming up in Lake Tahoe.
My tables are often very big, from 36" to 48" wide — sometimes up to 60" wide — and 7' to 24' long! When you're doing large projects or large orders, you want to save time and the Woodmaster does the trick for us. It saves is a lot of time.
Creating flat faces on round saplings
I use a lot of hickory saplings in my furniture. I get them from specialized tree farms. Some of our tables have trim made of hickory saplings that are split lengthwise. I found a way I could smooth the split faces on the Woodmaster.
I put them, split side up, between two rails and run them through the sander. That evens out the faces so they fit nice and tight to the table edges.
I've owned and used Woodmaster Drum Sanders for many years. I have two of them — a 38" 3875 and a 50" 5075. I keep them well maintained and they do exactly what they're supposed to do, create perfect surfaces. They're very powerful and I've had no trouble. I've had other drum sanders and changing sandpaper on them was very time consuming. They had steel drums with clips to hold the paper. It's hard to get your fingers in there with the clips and paper changes take too much time. Woodmaster's Velcro® system makes paper changes easy. It takes less than 5 minutes.
SAVE BIG NOW on Woodmaster Drum Sanders! – sale prices, online specials
SAVE BIG NOW on Woodmaster Molder/Planers! – sale prices, online specials
1/4 turn equals 1/16 of an inch sanding depth
We use my Woodmasters to do some restoration work, too. People bring in beautiful red oak doors from 1800's homes and 'Great Camps' in the area and we put them through one of the Woodmasters. It's very precise so I can sand off the gloss finish and the stain, right down to the oak, then refinish them. I take off only a little at a time using 180 or even 220 grit. The Woodmaster's very precise — 1/4 turn of the handle equals 1/64th of an inch sanding depth.
I chose Woodmaster for several reasons. First, it's made in the USA. Also, it came with a very good warranty, especially on the motor. It's a very powerful motor compared to other sanders. And of course the price — you can't beat the price and the quality. The customer service is right on the money, too. They have technicians there who will handle all your questions.
60" wide tabletops

I got the 'big daddy' 50" model because many of my tabletops are as wide as 48". And I added the 38" model to handle 36" tabletops and end tables. I've built tops as wide as 60". In those cases, I make two, 30" wide halves and glue them together.
Woodmaster's affordable, high quality
I'm absolutely happy with my Woodmasters. You really get quality, at a good price, and you couldn't get a better machine. You can't beat the Woodmaster Drum Sander for low price and high accuracy.
My only advice for anybody thinking about getting a Woodmaster Drum Sander is this: if you're going to buy a drum sander, go with Woodmaster. You won't regret it."
— Richard Vega, Adirondack Rustic Designs, Woodmaster Drum Sander owner
SAVE BIG NOW on Woodmaster Drum Sanders! – sale prices, online specials
SAVE BIG NOW on Woodmaster Molder/Planers! – sale prices, online specials
QUESTIONS? COMMENTS?
3 WAYS we can help you!