MAKE WOODEN BOATS with a Woodmaster Drum Sander
"My dad always made things. He taught me how and I've built things all my life. I've worked in construction, surveying, worked for a general contractor, was a subcontractor, estimator, and even a vice president of a big corporation. My wife and I literally built our own home. Today I make wooden boat parts and kits with my Woodmaster 26" Drum Sander.

I make a lot of individual boat parts! Last year, I shipped 563 individual orders. Some orders are for one item, but many orders are for multiple items. So that's a lot of individual items!
I'm a manufacturer. Here's how I distribute what I make. I'm an Original Equipment Manufacturer (OEM) for a couple of boat manufacturers — I make original equipment they build into their boats. And I make and sell boat kits and boat parts. And I give workshops where people build one of my boat kits in a few days. And I do custom work for boat owners. And I make aftermarket parts for several boat brands and models. Oh, and I make some wooden furniture, too! You can see it all on my website.
Because wood is "fuzzy"
A friend of mine actually gave me his Woodmaster Drum Sander. I hadn't started my wooden boat parts business yet but I was happy to take it. By now, I've put a lot of miles on that machine!
Among other things, I use it to size down boards. All the wood I use is rough cut. Any rough cut wood is 'fuzzy' — fuzzy enough that you can't really see the knots, splits, and bad spots until you get the board smooth. I'll put a piece of mahogany, for instance, through my Woodmaster several times until I knock down the fuzz and really see the wood. Then I lay out my patterns so I get the most out of every board. Then I cut the pieces out. After I've glued up a piece, or if it has inlay, I'll run it through again to level out the surface and make everything nice and even.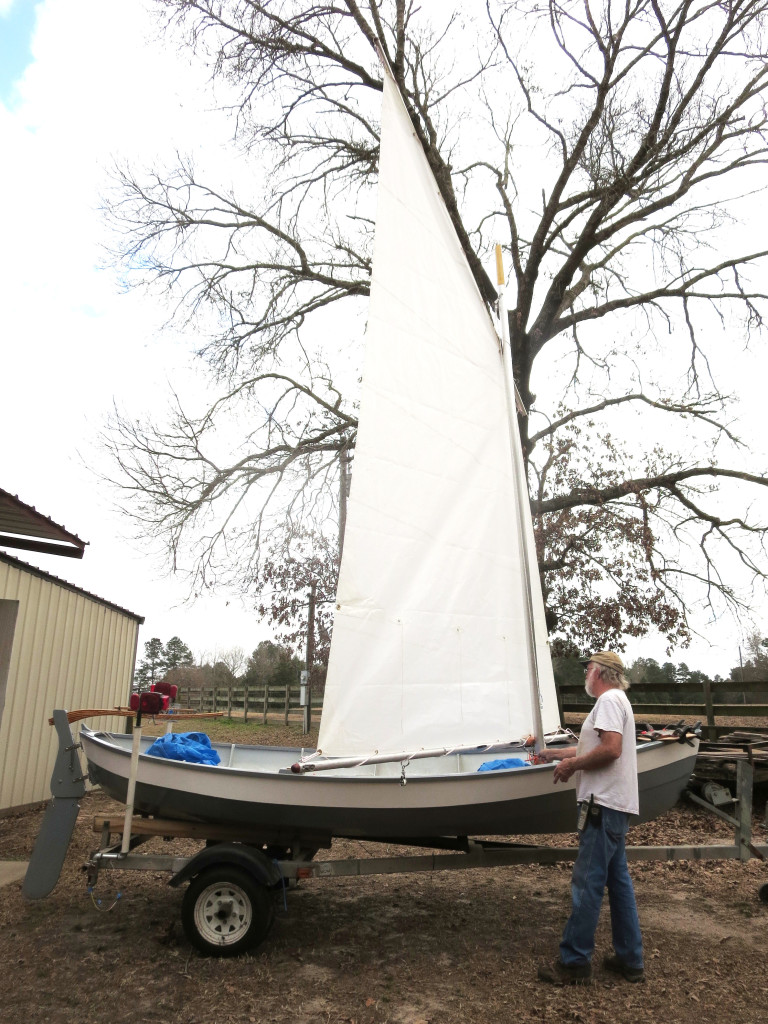 Just lean on it 'til it gives up
My Woodmaster works great. It's really a nice machine. But I could see having one of Woodmaster's double drum sanders. I use 80 grit paper the most of the time but it would be nice to have two drums so I could put fine paper on one and coarse on the other.
My shop is relatively small so I have my drum sander on castors so I can roll it around. This 26" model weighs almost 600 lbs. That's a lot of weight. You lean on it and start pushing until it gives up and starts rolling!
They really know their stuff
When I've had questions, I've called Woodmaster and I have nothing but praise for your people. I talk to your tech guys and they really know their stuff. For example, I was trying to figure out how old my machine is so I could get the right parts. Your tech guy asked me, 'Is it tan color?' No, I said. 'Well, that means it was built before 2000; that's when we started painting them with tan powder coat paint.' He must have been with Woodmaster a long time.
I recommend the Woodmaster Drum Sander to other woodworkers. I always tell them to choose the model you buy based on the projects you're making. That and do proper maintenance."
— John Owens, JO Woodworks, Woodmaster Drum Sander Owner, Texas
SAVE BIG NOW on Woodmaster Drum Sanders! – sale prices, online specials
SAVE BIG NOW on Woodmaster Molder/Planers! – sale prices, online specials
QUESTIONS? COMMENTS?
3 WAYS we can help you!