JIM'S VERY FIRST ORDER nearly paid for his new 4-HEAD WOODMASTER 4000
"I never expected my business to grow like this"
"You read some testimonials and think, 'Yeah, right.' But my situation is, the very first wood order I did with my Woodmaster 4000 Planer/Molder earned me all but $2,000 of the purchase price!
I never would have expected my business to grow like this. The usual situation is small lumber producers like me can never get the opportunity to get into the market. Now, all of a sudden, I can make products that people desire. And they can't get it at the store.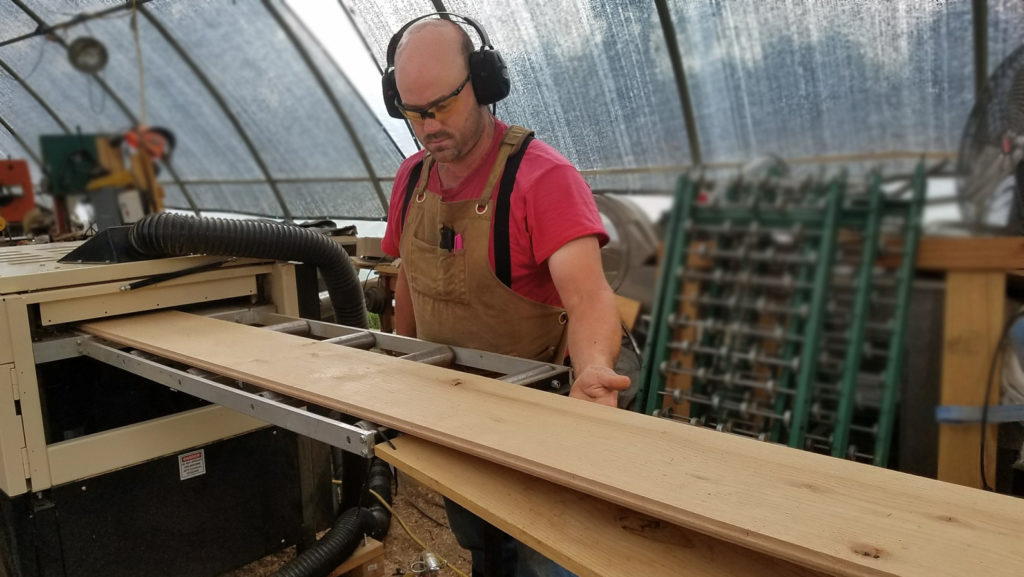 I run a small wood operation that's grown and morphed in the last couple years. I started making rough sawn lumber but I soon saw that value-added is where the opportunity is. That started me down the path of adding the Woodmaster 4000 Planer/Molder.
Now I'm making siding, flooring, lumber, reclaimed lumber, shiplap interior paneling, and more for remodeling and new construction.
Everything we make is on a custom basis, we're not in the commodity market. We recently made some quarter-sawn sycamore. We had a 3,200 board feet flooring order for a contractor — southern yellow pine. Last week, we made oak flooring from reclaimed beams.
Diversification is key
It's a good time to be in the lumber business. Now that the economy's coming back, people are starting to do home improvements again. And they want wood products.
We have a good, varied base of customers. Some are retail stores, some are contractors, and some are D-I-Y homeowners who want wood with character; wood they can't get at home improvement stores. One of my customers is a contractor who builds 100 homes a year. That's a great opportunity for me. I try to keep the work varied, not just one product. Diversification is key. If one of our products or one customer is off, other parts will keep us going.
Shopping for production machinery
When I started looking at different 4-head planer/molder machines, I looked first at older, industrial ones like Weinig molders but I had two concerns: first, if something fails on an old, vintage machine, parts are hard to find. Second, the capacity of older machines is not big enough. Some handle 8" wide workpieces but some people want 10" flooring. That turned me away from older, 'heritage' machinery.
Then I looked at imports like Baker and Logosol. I leaned toward Baker because of their capacity but neither one's made in the USA.
Woodmaster rumor
I heard a rumor that Woodmaster was building a new machine – a 4-head planer/molder. So, after I ruled out vintage and imported machines, I took a good look at the Woodmaster 4000. I contacted Woodmaster and talked to the tech guys. I learned all about the ins and outs of the machine's design theory, its physical design, maintenance, and more. I got a really good understanding of how it works, how it's built, how the components all function. I saw that good sense went into it.
Good design sense
I decided the 4000 was one to go with. Now that I have it, I can see it's built with good design sense. For example, you can get your hands right in there when you change the planer and shaper blades.
(You know how frustrating it is when a machine isn't user friendly? For example, I have a feller buncher that's really hard to work on. I just about had to rig a harness to get at a 10mm bolt to take the starter out. And I had to use a 15" socket extension! Whoever designed that machine obviously never had to change its starter…)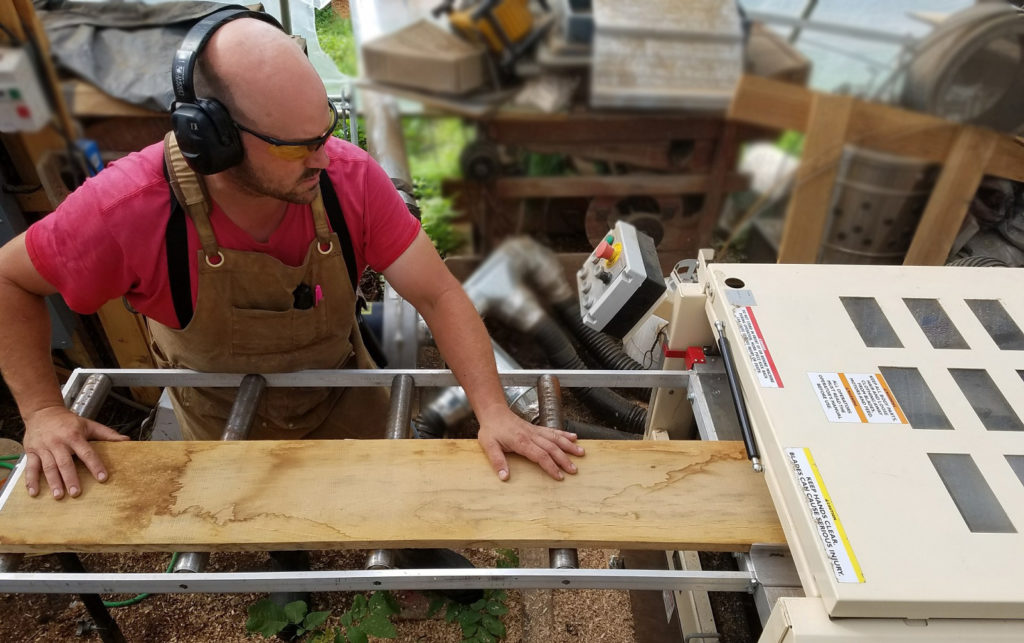 Gobbles wood
In the value-added market, you need speed and efficiency in labor and output. I wanted a machine that gobbles wood and I can run the 4000 at 22 linear feet a minute. That's more than 1,200 linear feet an hour. In a typical day, we run 3,000 feet even with a couple of dimensional changes.
OK, I was nervous about the 4000 because it's new. But I know guys who have other Woodmaster machines and they have a good reputation. I told Woodmaster I was really going to work it hard, and that I had a customer coming to me with 100,000 board feet of lumber to turn into flooring. But the 60-day money back trial was comforting. They'd take it back if it didn't satisfy me. It comes with a 5-year warranty too. A company that's willing to give all that is showing how confident they are. And, believe me, if there had been a problem, I wouldn't have been shy about returning it!
This 4000 delivers. Construction is solid and I'm very happy. I run some flooring at half speed. Not because the machine couldn't handle it but because it's capable of running wood faster than you can keep up with. It's nice to have someone at the output side to catch the boards!
Opportunity for the little guy
Woodmaster's people listen and take suggestions. They send you updates and give great customer service. And they delivered on time!
This machine really does create opportunity for the little guy. You can offer the consumer what they want with confidence. You know there'll be no problems for you or your customers. You'll want to feed the machine what it's set up for to produce an excellent finished product. A 4-head planer/molder like this has precision tolerances on the feed end. You'll want to feed it consistent quality dry wood with tolerances to fit. Do that and you'll make phenomenal products."
— Jim Medeiros, Woodmaster 4000 owner, White Oak Meadows, Wilsons VA
SAVE BIG NOW on Woodmaster Molder/Planers – sale prices, online specials
SAVE BIG NOW on Woodmaster Drum Sanders – sale prices, online specials
QUESTIONS? COMMENTS?
3 WAYS we can help you!
• Call us TOLL FREE 1-800-821-6651
• Email us info@woodmastertools.com
• Connect with us on Facebook