Jim HATED his old planer…LOVES his new Woodmaster. Says, "AIN'T NO TOY!"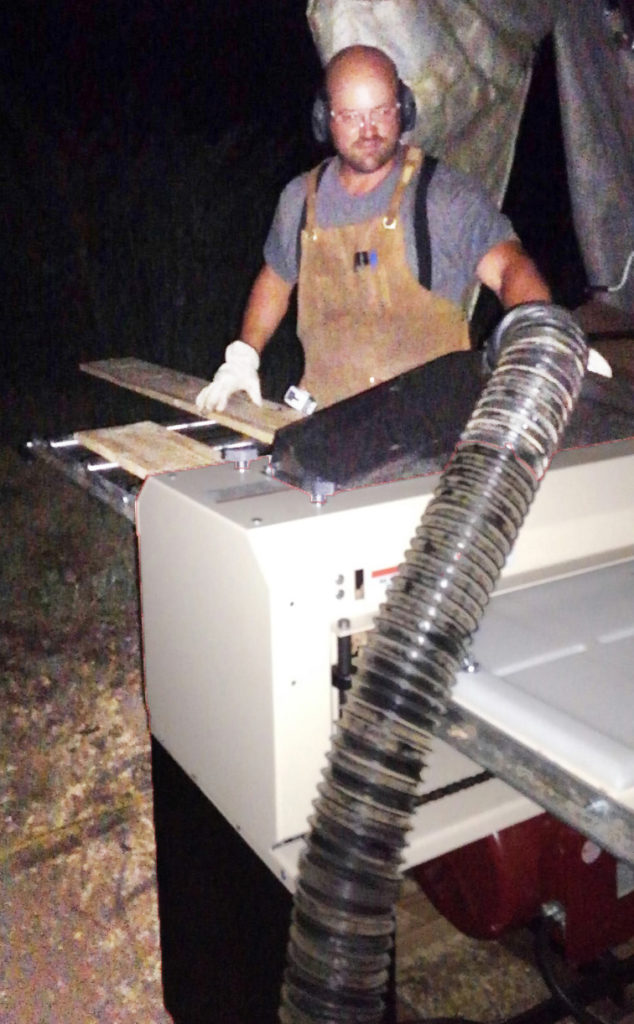 Editor's Note: Here's an email we received recently from new Woodmaster owner, Jim Medeiros. With a big dose of tongue-in-cheek humor, Jim told us what was WRONG with his old 12″ planer and what's RIGHT about his brand new, 25″ Woodmaster Molder/Planer. We at Woodmaster had quite a chuckle. Hope you do, too.
From: Jim Medeiros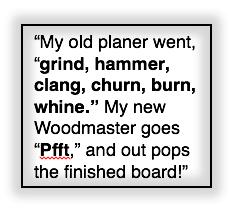 Sent: Tuesday
To: Woodmaster Tools
Subject: I watched the DVD – found my tables!!
Dear Woodmaster,
Well, I just got my brand new Woodmaster 725 Molder/Planer delivered. My first impression when I un-crated the machine was, 'Look at the size of that motor!'
So that night, 11:00 PM, there I was watching the Woodmaster DVD that came with the machine. (Talk about an exciting life!) Well, it was time well spent — the video showed me where I could find my machine's infeed and outfeed tables, tucked away neatly under the planer bed, right where the video said they would be!
Near midnight, I dashed out to my shop…
My wife wanted to know what was so important and exciting that I was getting dressed to dash out to the mill building in the rain at that hour!! Back inside, I turned on the video again and watched the next part of the video — 'Using your Woodmaster Planer'…..
Today, I got the planer all hooked up and ran a few boards through it this evening.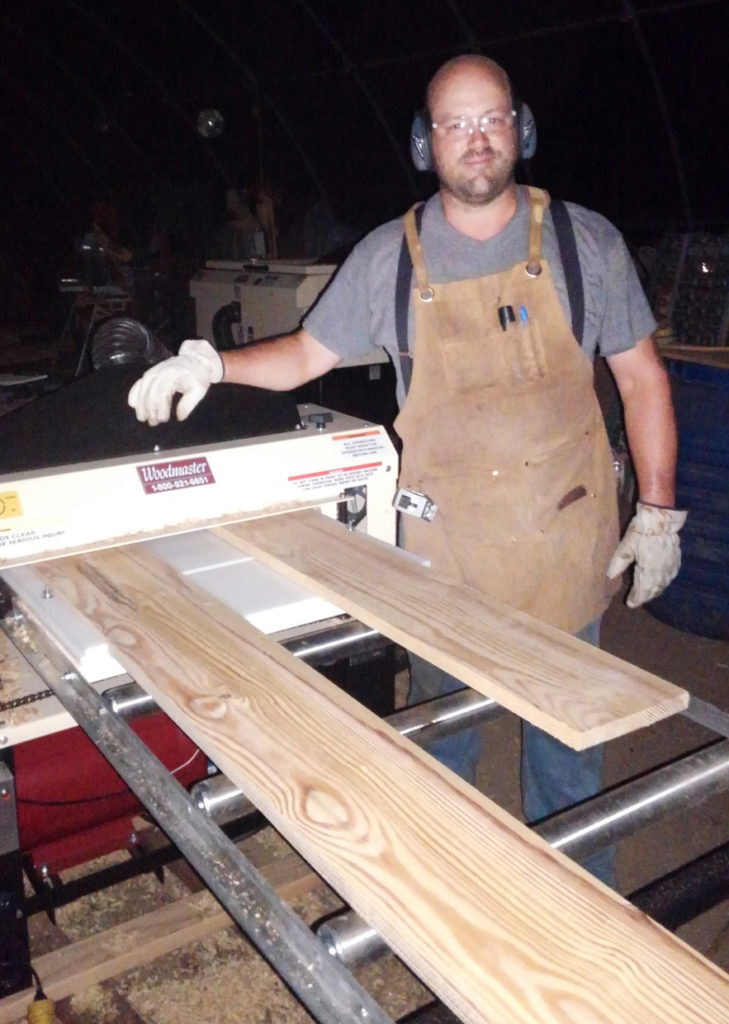 My old planer went, "grind, hammer, churn, burn, whine"
My old planer was suitcase-sized — maybe 12″ wide. When you put a piece of wood into it, well, you knew it was working: she would grind, hammer, churn, burn, whine, and dance all around. My wife would be in the house 100 yards away and she was comforted by the sounds knowing that work was getting done! So after removing an 8″ wide piece of lumber from my old 12″ planer, and lowering the head 1/64," the fun would start all over again.
My Woodmaster just goes, "pufft," and out pops the finished board
Now, with the Woodmaster 725, I put the board in the infeed, the machine basically goes, "pufft" — and the board comes out outfeed at the back of the machine. I see a flurry of shavings exiting the dust collector pipe. No excitement, no hammer, hammer, clang, clang, buzzz, just "pufft" — and out pops the board, all finished. Honestly, where is the fun in that? It will be a lot of exercise trying to keep up with this beast; I am probably going to have to buy a faster sawmill just to keep this animal fed. You should put on your literature that the 725 "Ain't no toy"…
Thanks, Jim
— Jim Medeiros, Woodmaster 725 owner, White Oak Meadows, Wilsons VA
SAVE BIG NOW on Woodmaster Molder/Planers – sale prices, online specials
SAVE BIG NOW on Woodmaster Drum Sanders – sale prices, online specials