"I'VE GOT A COMPETITIVE ADVANTAGE over other builders."
Contractor, homebuilder, cabinetmaker finds a path to profits with a Woodmaster Molder/Planer.
…and in today's economy, a COMPETITIVE EDGE is more important than ever!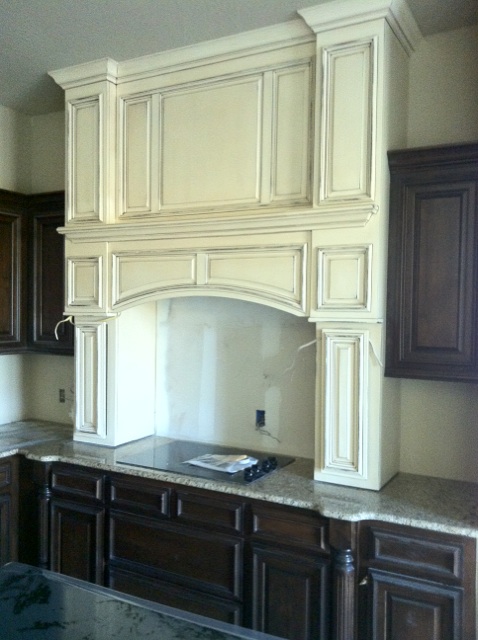 Two years ago, another woodworker encouraged me to get a Woodmaster. We were discussing how difficult it is to find the knotty alder wood that many clients want in their homes. It's a rare wood and few lumberyards carry it. My friend said, 'If you had a Woodmaster, you could just make it yourself.'
When you can create outstanding work like Lewis does, people get to know you and want your services."I'm a general contractor in Ardmore, Oklahoma. I build custom homes and do a lot of remodeling. I personally do a lot of the detailed woodworking in my homes and I always do my own trim carpentry. The Woodmaster Molder/Planer sets my business apart from other builders in my area. It lets me give my clients exactly what they want, any trim detail at all."My clients want wide, thick casing – it's expensive and hard to find."
I wish I'd bought my Woodmaster right then because I've had quite a few jobs since then I could have used it on. But I finally made the move and bought one. It's really helped me out and contributed to my bottom line.
I bought the midsize Woodmaster Molder/Planer. Woodmaster has larger and smaller molder/planers but I felt the midsize was good for what I wanted to do. I didn't want to go too big because I'm mostly making molding; but I didn't want to go with a machine too small to handle what I wanted to put through it. The midsize was the best one for me.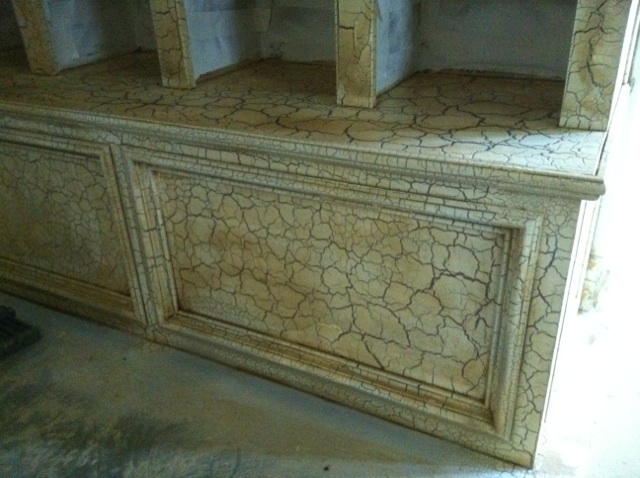 I set up my Woodmaster with molding knives. I switch them out when I need different kinds of molding. I bought a lot of knives to make a lot of molding patterns – maybe eight or 10 different profiles.
SAVE BIG NOW on Woodmaster Molder/Planers – sale prices, online specials

SAVE BIG NOW on Woodmaster Drum Sanders – sale prices, online specials
My clients want casings that are wide and thick – the kind of trim that's really expensive and hard to locate locally. I order custom knives from Woodmaster and make the specialty molding myself. That's made many of my clients very happy; they think it's great that I can make it myself rather than buying it through a lumberyard.
Custom Woodmaster knives add profit
I built a local home using a specialty casing that wasn't sold within two states of me. To get it shipped in was going to be astronomical. I sent Woodmaster a sample of the molding and they custom-made the knives. I made the molding for my clients for about half of what it would cost to get it shipped in and I still made some money on it. I charged them considerably less than the cost of getting it in from Illinois and still made a profit on it so everybody was happy.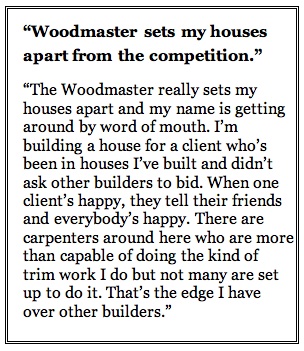 There's profit in making your own molding. You can buy rough cut lumber and dedicate a Woodmaster machine to making finished molding you can really run a good business. You buy rough cut lumber, plane it on the Woodmaster, gang—rip it into blanks, then mold it. You can set up the Woodmaster with multiple knives so you can run side-by-side molding setups.
Curved molding is especially profitable.
I'm making curved molding following the videos on the Woodmaster website, I've got curved molding down now and it's going really smoothly. It's really satisfying to know you made something as nice as that yourself.
Curved molding is a high profit item. Before I got my Woodmaster, I'd have to have millwork shops make it for me but just one eyebrow arch could cost more than $200 before it's even cut, fitted, and installed. Houses today are full of curved trim, arches, and windows — it's everywhere. One job we did had eight or 10 arches; three or four of those were trimmed out on both sides. Before getting my Woodmaster, we'd probably have had to drywall those arches.
You can get set up to run several arches at one time. Make 10 and you can make $1,000 in a day or two. My clients don't have a problem paying $200 for an arch. As far as profit goes, my only out-of-pocket cost is lumber and I have that on the jobsite already. You can take a leftover piece of windowsill and make an arch out of it.
"It's just not that much money — paid for itself on the first job."
This machine is very user-friendly and it paid for itself on the first job. My 718 was a little over $2,000 and that's a great bargain for what I got. Everybody I've told about this machine thinks I paid five or six thousand dollars for it. On the first job I used it on, I made a lot of panel molding and 10 or 12 pieces of curved trim, and used it as a planer and to remove kerf saw marks. It literally paid for itself on that first job.
In the scope of building homes, spending a couple thousand on a Woodmaster is just not that much money, especially when it'll pay for itself on the first job. It took me a bit to convince myself to make the move but once I did, I've had many jobs come up that I'm using it on. You forget about what you've paid once you've started using it. The money you spent kind of goes away when you see what it's bringing in. There's a whole lot more return than cost.
Even if things got slow…
Even in this economy, we're real busy. I don't see how anybody could go wrong with a Woodmaster. Even if things got really slow, a guy could get into the molding business. Homeowners are always wanting to do things to their homes.
If things were slow, you could go and make all the molding for the whole house. You could make double profits — I make money on making molding and installing it. There's a lot of opportunity if someone's willing to do it. It gives you a little something to fall back on if things got real slow.
"Folks at Woodmaster are a pleasure to deal with."
I've had great luck with the Woodmaster company. I order knives and they're back to me in just a few days, no more than a week. Woodmaster's answered all my questions. They've been a pleasure to deal with. Maybe in the future I'd like to look at a Woodmaster drum sander but I'm not ready for that just yet.
I would tell others if they're going to be in the business long term, and serious about their work, and have the money to do it, don't hesitate to get a Woodmaster. It will pay for itself, and it will give you a leading edge on the competition. If you're at all able to do it, I'd encourage anyone to buy one.
"There are things you just can't do without a Woodmaster."
The bottom line is there are things you just can't do without a Woodmaster. The only way would be to go to a high-end millwork place and have them custom make everything for you. And even then, you'd have to give them templates, spend an awful lot of money having it made, and probably have to wait 3 or 4 weeks to have it come in. That's the difference a Woodmaster makes.
The machine is profitable and easy to use. If you're in business for the long haul and are serious about your work, you need to own one."
— Lewis Taliaferro, Woodmaster Owner, Ardmore, OK
SAVE BIG NOW on Woodmaster Molder/Planers – sale prices, online specials
SAVE BIG NOW on Woodmaster Drum Sanders – sale prices, online specials
QUESTIONS? COMMENTS?
3 WAYS we can help you!