"I'M BUSY & PRODUCTIVE IN RETIREMENT — THANKS, WOODMASTER!"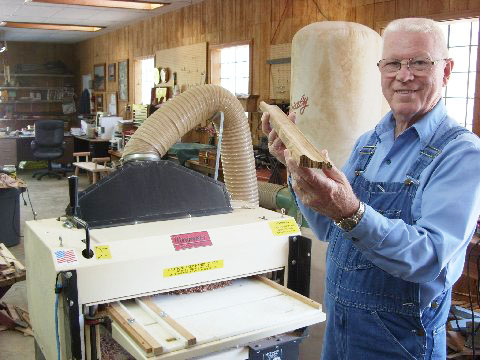 SAVE BIG NOW on Woodmaster Molder/Planers – sale prices, online specials
SAVE BIG NOW on Woodmaster Drum Sanders – sale prices, online specials
Abe Taylor grew up in a family where Dad made the home's furniture. Abe lent a hand and decided he liked woodworking, too. He's been at it ever since, especially now that he's retired and owns a Woodmaster Molder/Planer. Sure beats sitting around watching TV!

"I can't stand just sitting around watching TV!"

"I retired in 1995 and I can't stand just sitting around watching TV! I need something to keep me busy. I started doing woodworking when I was just a kid. My dad made furniture for our home. I helped him and realized I liked working with wood a lot.
In retirement, I've been doing quite a bit of woodworking. Using my Woodmaster Molder/Planer, I make a lot of picture frames, blanket boxes, jewelry boxes, chess sets, and more. We built our own house in 2000 and I made a lot of molding for it.
"Woodworking's very rewarding"
I find woodworking very rewarding. I like seeing the look on people's faces when I give them something I've made. My brother took a great photo and I framed it with picture frame molding I'd made on my Woodmaster. He had goosebumps when I gave it to him.
I'd always wanted a Woodmaster and they had a special sale going on. I got the 25″ 725 Woodmaster Molder/Planer and the Pro Pack — the whole setup. I got a discount and a special offer: when I bought the offer was 90 days same as cash.
25" is a big advantage
Having a 25" wide molder/planer is a big advantage. I've got a 14" planer and it doesn't come anywhere near doing what the Woodmaster does. The 14" one is imported and it kicks back. It's almost dangerous to use sometimes. My Woodmaster never kicks back.

I've got a kitchen countertop to do the edge on – about 100' of edging. I'm looking to make some tongue and groove flooring, I may make some for my office.
My plans for the future? I'm taking it day by day. I do plan to make an old time, farm style plank dining room table to replace our dining room table. I'll start with rough cut wood — look out, Woodmaster, here I come!
"If you use a little common sense…"
I have no negatives about the machine. If somebody's thinking about getting a Woodmaster, I'd say go for it. Don't have second thoughts. It's made in America, it does the job it's supposed to, just like Woodmaster says it will. It's easy to set up and easy to operate. If you use a little common sense, it's no problem at all. I can switch from planer to sander to molder easily."
— Abe Taylor, Woodmaster Molder/Planer Owner, Tennessee
SAVE BIG NOW on Woodmaster Molder/Planers – sale prices, online specials
SAVE BIG NOW on Woodmaster Drum Sanders – sale prices, online specials
QUESTIONS? COMMENTS?
3 WAYS we can help you!