I can't wait to retire SO I CAN DO WOODWORKING FULL TIME
I've put literally miles of wood through my Woodmasters
"I have two 18" Woodmaster Molder Planers. The older one – the dark grey one – I've put literally miles of wood through it — I'm talking 1,200 to 1,300 lineal feet a week. On just one job, I made over 5,000 lineal feet of 1800's-style Dutch lap poplar siding.
I started with 1 x 6 boards and ran each piece through the Woodmaster to shape the front and back and make the tongue and groove. I had Woodmaster make me the molding knives. I kept them and used them on other jobs.
The town I live in has a lot of historic homes and old mansions. I've been duplicating a lot of 14" and 15" baseboard. I make it using three pieces of molding. This is something people cannot find anywhere else. Woodmaster made me the cutters.
I build cabinets, mantles, and every other wood product imaginable, all part time.
Full-time once retirement kicks in
I started in carpentry when I was 18 or 19. Now I'm 62 and I've been a finish carpenter for years. I do work with my Woodmaster just part time and I work part time at a maintenance job in order to get medical benefits. Once I get to retirement age, I'll take this business full time.
I cut trees on the farm my family's owned since the 1930's. Poplar, red and white oak, cherry, white pine, sassafras, ash, hickory, walnut, maple, and more. I haul the logs home, run them through my sawmill, kiln dry them, and put them all through the Woodmaster. Everything we sell is 98% clear. Each process adds value. If I sold standing poplar trees to a logger, I'd get ten cents a board foot. When I do the sawing, drying, and planing, I can sell for $2 a board foot. My big thing is to not give our farm's trees away; to get the most we can from them.
Right now, I have 20,000 board feet of lumber sawn, dried, standing vertically in my pole barn, ready for retail. People come in and sort through and choose the boards they want. If they want something specially planed or edged, I do it and charge extra.
One Woodmaster for planing, another for molding
I started this work in the 1980's with a Foley-Belsaw planer. That's a very complicated machine to operate, with too many mechanisms. And I needed something wider than 12". A friend put me onto Woodmaster. I have two 18" Woodmasters. I got my grey one then and started planing and selling boards. Later, I got my newer, tan colored one. I have the grey one set up for molding. 18" wide, I can set it up to run three types of molding at the same time. I have the new, 18″ tan one set up for planing. These machines are awesome, easy to work on, and I have no complaints whatsoever. And any time I've every called Woodmaster, you've always given me prompt service and a lot of help.
I've never replaced much on my machines – only feed rollers and maybe belts a time of two. Performance? I've never run out of power, never had an issue. I sharpen the blades, turn the machine on, and put wood through it.
Run 2 boards at a time
If someone's thinking of getting a Woodmaster and think they need the 12" model, I'd say get a bigger one. Wider is better and the work goes quicker. With 18" width, you can run 7" boards two at a time. I make tabletops on my 18" Woodmaster. I glue boards into two panels up to 18" wide, run the panels through, and glue them together. Then you have only one glue joint to worry about.
This is all part time for me. I'd do it full time except for health care costs. I look forward to retirement age when I can do this full time. I'm backed up with special orders, I can't do all the work I have! But I have a lot to look forward to. I'll stay busy, and Woodmaster makes it easy."
— Dave Steinard, Steinard Hardwoods, Woodmaster Owner, Connersville IN
SAVE BIG NOW on Woodmaster Molder/Planers – sale prices, online specials
SAVE BIG NOW on Woodmaster Drum Sanders – sale prices, online specials
QUESTIONS? COMMENTS?
3 WAYS we can help you!
• Call us TOLL FREE 1-800-821-6651
• Email us info@woodmastertools.com
• Connect with us on Facebook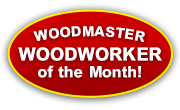 Do YOU want to be our next Woodmaster Woodworker of the Month? Email editor@woodmastertools.com photos of you, your woodworking, and your Woodmaster!