HOW TO DO A DAY'S WORTH OF HAND-SANDING IN 15 MINUTES (Hint: Woodmaster Drum Sander)
OK, woodworkers, which would you rather do: spend an 8-hour day pushing a hand-sander around, or zip your work through a Woodmaster Drum Sander in 15 minutes? Or let's put it another way: how'd you like to reduce the time you spend hand-sanding by 97%?
For cabinetmaker/furniture maker, Jeff Rhone, those time-saving numbers are real, and those questions are no-brainers. But the time Jeff saves is just one of four reasons he chose the Woodmaster Drum Sander. Please read on…
"I run a one-man custom cabinetry shop. Most of the work I do is custom cabinets and furniture. I specialize in small cabinetry jobs, kitchens, pantries, mudrooms, closets, entertainment centers, and so on. I started woodworking in a small custom cabinet shop. We'd take on anything — furniture, refinishing, everything. Our main bread and butter work was custom cabinets. Eventually, I went out on my own.

Everything from face frames to furniture parts — saves literally days of hand sanding
I first ran into the Woodmaster Drum Sander in trade school. The school had a Woodmaster and I thought it worked great. I ended up getting a Woodmaster 38" Drum Sander and I've used it on every project I've built since I got it — everything from sanding down face frames to sanding all the pieces for the Adirondack chairs I build. This sander has saved me literally days of hand sanding. It is a Godsend.
SAVE BIG NOW on Woodmaster Drum Sanders! – sale prices, online specials
SAVE BIG NOW on Woodmaster Molder/Planers! – sale prices, online specials
My current shop is just 600 sq. ft.. I have a lot of big tools like shapers and so on but the Woodmaster fits right in. It has a small footprint and it's on casters so I can move it where I want it. My Woodmaster works out perfectly.
I do everything myself, I don't send anything out. I do one project at a time, anything from cutting boards to kitchens. I make a lot of Adirondack-style chairs and the sanding the Woodmaster does is remarkable. It does in 15 minutes what would take me a full day to do by hand.
Slashes sanding time 90%
Woodmaster says a cabinetmaker spends 60% of his time hand-sanding, and that the Woodmaster saves 90% of that time. I agree with that 100%. For example, making chairs. When I was hand-sanding, it would take me a whole day to hand-sand all the parts for just two chairs. Today I just sent all the parts for four chairs through my Woodmaster in under half an hour. And the surface quality the Woodmaster creates is great. (Note: when we did the math, Jeff's Woodmaster actually saves him 97% of the time he spent hand-sanding.)
I chose the 38" Woodmaster Drum Sander so I could run 36" cabinet doors and face frames without any issue. I can do entry doors up to 36". This size works great for butcher block counter tops I make, too. They're 25" wide — a 24" sander's not quite wide enough for that.
The other Woodmaster advantage is the ease of sanding a lot of small parts. I just send them through side by side. They come out the other end and drop onto a table I have set up to catch them on the outfeed side.
Jeff chose Woodmaster for 4 reasons: Affordability, Made in America, Small Footprint, Saves Time
I chose Woodmaster for several reasons. First, it's affordable. It's cost effective — you'd pay twice as much for a Powermatic. Second, it's made in America. That's important, keeping jobs in the USA. USA tools are better made than imports. Third, it has a small footprint. I've got it on optional casters and I can move it out, use it, and move it back. Other sanders didn't work like that.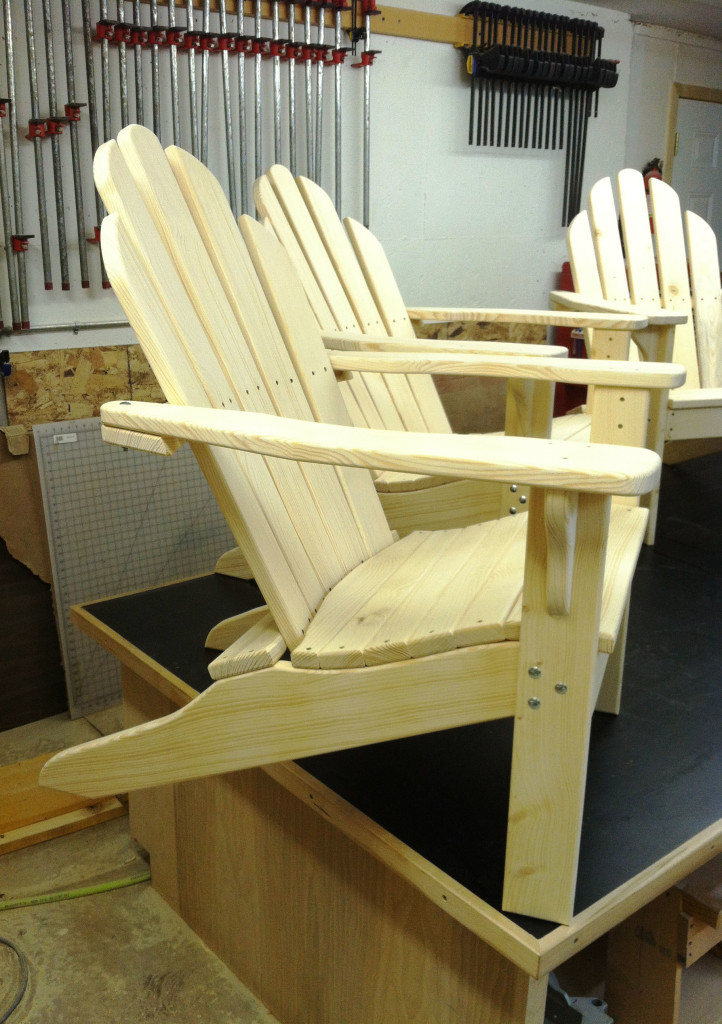 And fourth, it saves time and everybody knows time is money. For somebody like me, a small shop woodworker, it's saved me literally days and days of hand sanding. It paid for itself a year ago. I'd give this machine a 10. It's one of my most-used machine in my shop, right after my table saw and my chop saw.
Booked 3 months ahead — no regrets
I don't advertise and don't want to. Right now, I'm booked out three months or more. I'd recommend it to other woodworkers and I'd do it again myself. I researched drum sanders for almost 10 months. I don't regret my decision at all.
I can't ask for a better drum sander. It's a quality machine. The way it's made, I could use it all day long and never have an issue. I love it, wouldn't get rid of it. Woodmaster, keep up the good work!"
— Jeff Rhone, cabinetmaker, Woodmaster Drum Sander Owner, South Dakota
SAVE BIG NOW on Woodmaster Drum Sanders! – sale prices, online specials
SAVE BIG NOW on Woodmaster Molder/Planers! – sale prices, online specials
QUESTIONS? COMMENTS?
3 WAYS we can help you!