HOW TO BOOST YOUR WOODWORKING PROFITS 500% — Woodmaster Sales Rep tells all
When you call Woodmaster Tools or our sister company, TimberKing Sawmills, you might just get Matt Muehlebach on the other end. Go ahead, ask your questions and you'll soon realize you've reached someone who knows these machines inside and out. And not just because he read the manuals. Matt knows our machines through his own personal, hands-on woodworking experience.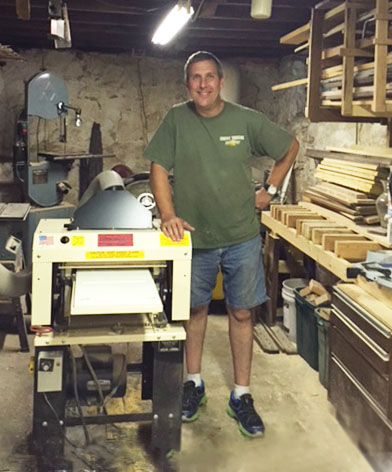 "I'm a Sales Rep for TimberKing Sawmills. I'm also well versed in Woodmaster equipment — Woodmaster Tools is our sister company here in Kansas City. And I own and use a 12" Woodmaster Molder/Planer. I'm on the phone all the time with TimberKing customers and owners, and also with Woodmaster customers and owners. Besides using our machines myself, talking with other woodworkers all day long really helps me tell our customers how to get the most out of them.
How to boost woodworking profits 500%
For example, TimberKing Sawmill customers will often ask what's the best way to make money with their mills. I suggest adding a Woodmaster Molder/Planer. With a molder/planer, they can really increase their profits. Together, the Woodmaster and the TimberKing really complement each other. Here's how:
Just for example, let's say a sawmill owner can sell a board foot of rough sawn lumber — 12" x 12" x 1" — for $4. So he'll sell an 8' board, 12" wide by 1" thick, for $32. If he could turn that board into molding, say 4" crown, and sell it for $8 per linear foot, he'd make substantially more.
Now, if that sawyer has a Woodmaster Molder/Planer, he can do exactly that. He can rip that 12" wide board into 3, 4" wide boards, and turn them into crown molding. He now has 24 lineal feet of molding that's worth $8 a lineal foot, or $192. That's a 500% increase, or six times the income!
And whether you're sawing rough lumber or buying it, Woodmaster's "value add" performance is the same. Putting rough sawn wood through a Woodmaster adds value.
SAVE BIG NOW on Woodmaster Molder/Planers – sale prices, online specials
SAVE BIG NOW on Woodmaster Drum Sanders – sale prices, online specials
Which came first — Matt's woodworking or his Woodmaster?
I've been a woodworker for years, long before I went to work for TimberKing. I used friends' Woodmaster Molder/Planers so I knew all about them before starting here.
I own a 12" Woodmaster Molder/Planer and I use it all the time. It's awesome! I build all kinds of things. For example, I built 25 picnic tables — actually, 50 half-tables. Push two together and they form a full picnic table. I sold them to customers all over.
I'd call myself a mid-range woodworker. I build pretty good stuff but not high-end furniture — I'm too impatient! I use some quick methods like biscuits and pocket hole joinery.
Dresser Rescue Program
I'm using my Woodmaster right now to do work on my home. I used it to cut boards to replace my back stairs, soffits, and more. I build all kinds of furniture, cabinets, entertainment centers, coffee tables, end tables, dressers, and more. I've made tongue and groove flooring using Woodmaster's 3-Side Molding System. And I do what I call a 'dresser rescue program.' If I see a dresser someone's throwing away I'll take it home, repair it, and put it back on the roadside for someone else to pick up for free.
What else do I do? I made the picnic tables we use here at our factory. I made the boards of molding samples hanging on the wall in our sales office. I make the pallets that Woodmaster and TimberKing equipment is shipped out on. I've built furniture for just about everybody who works for TimberKing and Woodmaster!
My neighbor has 70 rental homes. He takes out old carpeting and puts in tile, wood flooring, that sort of thing. I make all the transition pieces for him as well as a lot of cabinet doors and drawers. I hadn't had my Woodmaster a week before he asked me to make molding for him. I ran 312 feet of molding and charged $1 a foot. He was pleased as can be. I was, too.
Working for TimberKing, I get a lot of wood for my projects for free. When a customer comes to pick up one of our sawmills, we demo the mill for him by sawing out some boards. I end up taking the boards home, air drying them, and using them to build furniture.
"Woodmaster's built like a tank"
When I talk to friends, other woodworkers, or our customers, I tell them Woodmaster and TimberKing machines are built like tanks. They're super easy to learn to use, and more importantly they're easy to work on. Other mills, other molder/planers, are a nightmare to work on. Changing blades on others can be a nightmare!
As a woodworker, I'm extremely happy with my Woodmaster Molder/Planer. It's one machine that will make flooring, siding, molding and more, and is a thickness planer, too. Many of my customers have told me they purchased their Woodmasters in large part because I'm so enthusiastic about them!"
— Matt Muehlebach, Woodmaster Owner, TimberKing Sales Rep
SAVE BIG NOW on Woodmaster Molder/Planers – sale prices, online specials
SAVE BIG NOW on Woodmaster Drum Sanders – sale prices, online specials
Have a Question or Comment? Here are three ways we can help you!
1) Call us TOLL FREE 1-800-821-6651
2) Email us info@woodmastertools.com
3) Connect with us on Facebook