HOW ROB BUILT A SUCCESSFUL FURNITURE BUSINESS FROM SCRATCH
Congratulations, Rob Lemire, Woodmaster Owner from Maine — a Woodmaster Woodworker of the Month!
Ever wonder if YOU could start a successful woodworking business? Here's how Rob did it….
"I learned woodworking from my grandfather. By my teen years, I was working side-by-side with him in his jack-of-all-trades business – roofing, remodeling, additions, painting, and more. He really taught me how to do high quality work. As I got older, I took on bigger jobs. He told me to go to college and that I'd always have hands-on skills to fall back on.
I worked 30 years as an educator. But I always did side work and summer jobs as a finish carpenter and cabinetmaker. I'm retired from teaching now but deeply involved in my furniture business, Maine Adirondack Chairs.
"Plan A" wasn't working – so Rob went to "Plan B"
When I left teaching, I wanted to start a business. My first choice was building custom cabinets and furniture here in central Maine. But there isn't enough of that kind of work here. So I went to my second choice. I thought of the white cedar Adirondack furniture I'd made years earlier. I started building and selling Adirondack chairs and it soon started growing into a viable business.
Within a couple of years, the business grew to the point that I needed a helper. That's when I hired Melissa May, a local woman who has great qualities like skill, reliability, responsibility, and trustworthiness. I pay her very well and, the first couple of years, we worked together building chairs, some custom furniture, dressers, beds, accessories, tables, love seats, and more. We sell and ship nationwide though a majority of our customers are waterfront owners in Maine.
The business just kept growing. All I can say is, 'Bingo!' Orders kept flying in and I hired a friend of Melissa's, Petra Mesaric. After a few years working with me, Melissa and Petra developed their own production skills and work systems. I saw they could work on their own. Like a good employer should, I stepped away at that point and took care of the business while they built the furniture. For the past 3 years they've been running all the production. I manage the business, marketing, materials, and accounting. They make everything we sell.
Business doubled…then doubled again
At that point, the business exploded and grew 100% at a clip. Sales doubled then doubled again. My small business was really turning into a good-sized one. This growth mandated that I upgrade our shop machinery. For example, we'd been hand-sanding with a hand-held DeWalt 5" disk sander. I looked at alternatives and especially customer comments. I spent one winter researching drum sanders and came to the conclusion that Woodmaster is the best choice. I ordered a Woodmaster 26" drum sander.
I looked at Grizzly, Powermatic, Jet, Woodmaster, and other drum sanders. I read as many reviews as I could find. Everybody raves about Woodmaster. The fact that Woodmaster gets great reviews, is built in the USA, and has a powerful engine, made it hard for me not to buy one!
The 26" model drum sander fits our needs perfectly. And I also bought a Woodmaster 712 Molder/Planer to run all the molding for my home. I basically got it for free. It paid for itself in the money I saved by making my own molding.
A full day's sanding in 1 hour
The Woodmaster has really speeded up production. Melissa and Petra build furniture in batches, maybe 20 chairs at a time. They stack up all the parts – dozens or even hundreds of parts. When it's time to sand, they put them through the Woodmaster, 8 pieces at a time, side by side across the Woodmaster's 26".
Sanding parts for 20 chairs with a disk sander might take a full day. The Woodmaster does them all in 1 hour!
Business is excellent and continues to grow dependably, about 25% every year. We don't have to worry about the economy, we're busy building 30 to 40 chairs every week, April or May through September or October.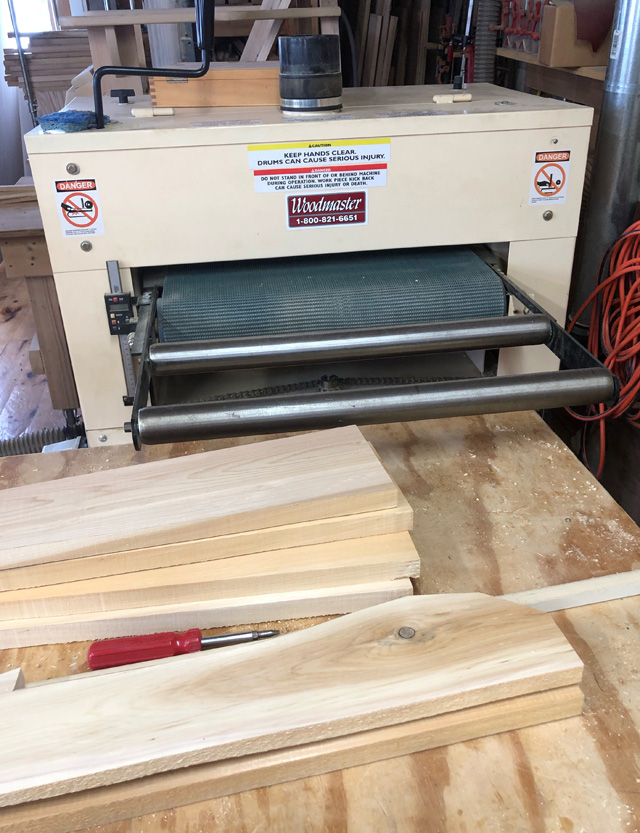 Running 1,000 linear feet every week
We're running 1,000 linear feet of white cedar through the Woodmaster every week. I absolutely love its ability to get work done. I don't know, I may need another one. The Woodmaster company takes good care of me, too.
If somebody's thinking about getting a Woodmaster, I'd say don't hesitate. Just work with Woodmaster and get one. Pay on time if you need to but take advantage of this good tool and get one."
— Robert Lamire, Maine Adirondack Chairs , Vassalboro ME Facebook
SAVE BIG NOW on Woodmaster Molder/Planers – sale prices, online specials
SAVE BIG NOW on Woodmaster Drum Sanders – sale prices, online specials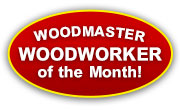 Hey, Woodmaster owners, YOU could be our next Woodmaster Woodworker of the Month! Email photos
QUESTIONS? COMMENTS?
3 WAYS we can help you!
• Call us TOLL FREE 1-800-821-6651
• Email us
• Connect with us on Facebook