HOUSING AMERICA'S HOMELESS with vision, creativity, and Woodmaster Molder/Planers
We at Woodmaster Tools are constantly amazed and thoroughly impressed with what our Owners are making, building, manufacturing, and producing. We recently learned of an outstanding example of our Owners' vision and creativity — an ingenious Woodmaster Woodworker who's developed a way he believes he can help solve America's homeless crisis…..with a Woodmaster.
Woodmaster owner, Chris Scott, has developed a new way to build wooden structures. Rather than use commercial lumber straight from the lumberyard, Mr. Scott uses his Woodmaster to shape lumber into building components with unusual profiles.
By running square-sided lumber through his Woodmaster Molder/Planer equipped with custom molding knives, Scott gives his "I Wood®" an I-beam profile. His "C Wood" has a C-shaped profile. These shapes virtually "clip" together easily and neatly — something like Lincoln Logs or Lego blocks. The net result is a combination of a construction material and a building system that make it simple for minimally-skilled laymen to construct buildings quickly, easily, and inexpensively.
Why Woodmaster? Chris says, "My choice of Woodmaster was probably based on the fact that you have the complete package to help me towards my vision. Your machinery can selectively produce material for making houses, furniture, toys, and other crafts at the local level. This creates local jobs, uses local raw materials, and supports the community both in short and long term."
Big, big, big vision
And Chris Scott has a much, much, much bigger plan. His goals are to make a significant contribution to sheltering humanity, and to help people produce sustainable wooden products.
You could call Chris's goals visionary. What he has in mind is changing the building industry by empowering individuals and communities to have more hands-on control over building materials and construction methods…and far more opportunity to do-it-ourselves. The first step in Scott's plan is aiding America's homeless.
Scott's Woodmaster-profiled lumber is just the start of his big vision for I Wood. I Wood has plenty of advantages: profiled lumber makes construction simple. I Wood reduces manufacturing waste — you get more boards from less wood; from younger trees; and from smaller diameter logs.
This increases the lumber yield from forests and aids carbon sequestering efforts. I Wood is lighter than commercial lumber so it packs tighter for delivery to a building site — a truck can carry 30% more I Wood than standard lumber in a single load. And I Wood's I-beam profile relieves the stress in a board, reducing warping.
In broad stroke, Chris Scott and his Woodmaster have created a wood product and a construction system that make it practical and affordable for ordinary folks to successfully build small buildings.
Helping the homeless
Created and licensed by Treecycling®, Inc, a San Diego non-profit, Chris Scott's I Wood is being used to construct neat, tidy, small shelters for homeless people. Local schools are getting involved — see the recent article and video posted by Channel 7, a San Diego NBC affiliate.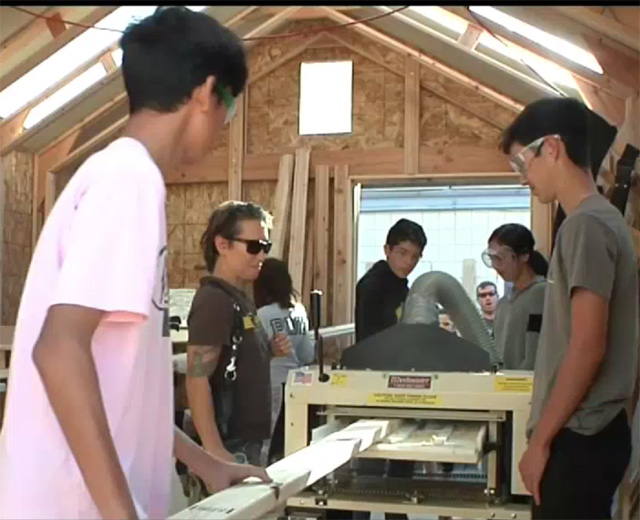 An energetic startup, Treecycling's immediate focus is to inspire communities and individuals to start producing I Wood and building shelters for the homeless. Robert Bird, a self-described "passionate advocate" of I Wood and a Treecycling volunteer told us, "We're concentrating on sheltering homeless people in I Wood structures. Volunteers like me, the community at large, and the homeless themselves can easily build them. Instead of purchasing pre-manufactured shelters, I Wood structures can create solutions locally and affordably."
How affordably? Bird says, "The material cost to build an 8' x 12' I Wood shelter is about $1,000 without labor. And the structural components are so modular, they can be used to build any size structure from 4' x 8′ to 16' x 24'."
"As someone with 30 years of carpentry experience," says Robert, "what impresses me is that the Woodmaster is safe and straightforward enough that a layperson can watch it work, get trained how to use it safely, and start using it comfortably in just 15 minutes."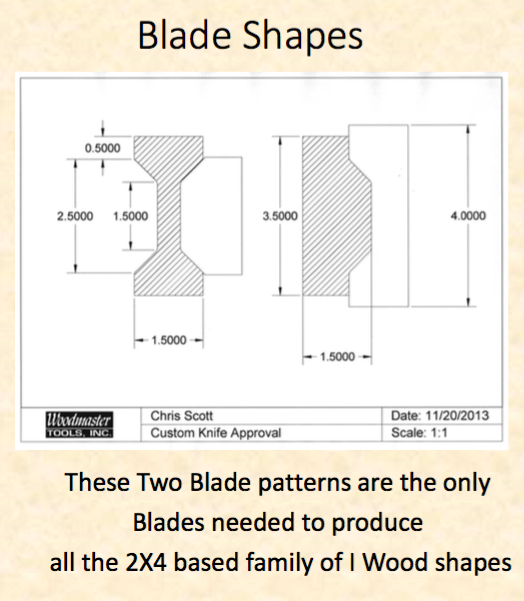 Thinking way beyond homeless shelters, Robert says, "The 'Tiny House' movement is growing and I Wood is a strong, lightweight, and affordable material for small homes, accessory buildings, casitas, cabins, and more."
Business opportunity for Woodmaster woodworkers?
"One of Treecycling's initiatives," said Robert, "is to encourage independent woodworkers to start manufacturing and selling I Wood. For an investment of about $5,000, a Woodmaster woodworker can get trained and licensed by Treecycling and start producing I Wood. They'll get the Treecycling Business Plan we've put together including building plans, sales and marketing information, and more. They'll get production suggestions plus specs and templates for I Wood "I" and "C" pattern knives. We'll even work with the woodworker and Woodmaster to get a Woodmaster and the I Wood knives made for woodworkers."
Chris Scott adds, "We know that a Woodmaster machine in a dedicated workshop could produce at least two, 400 square-foot homes a day, providing jobs for two or three people. That could be around 750 houses a year."
For more information…
If you're interested in further information on Woodmaster Molder/Planers, please visit Woodmaster's website or call 1-800-821-6651. For info on I Wood, visit Treecycling online.
SAVE BIG NOW on Woodmaster Molder/Planers – sale prices, online specials
SAVE BIG NOW on Woodmaster Drum Sanders – sale prices, online specials
QUESTIONS? COMMENTS?
3 WAYS we can help you!
• Call us TOLL FREE 1-800-821-6651
• Email us info@woodmastertools.com
• Connect with us on Facebook