"Hello, Woodmaster? I NEED YOUR BIGGEST DOUBLE-DRUM SANDER!"
"I absolutely attribute my business growth to my Woodmaster equipment. So much growth, though, that I needed your BIGGEST double-drum sander!"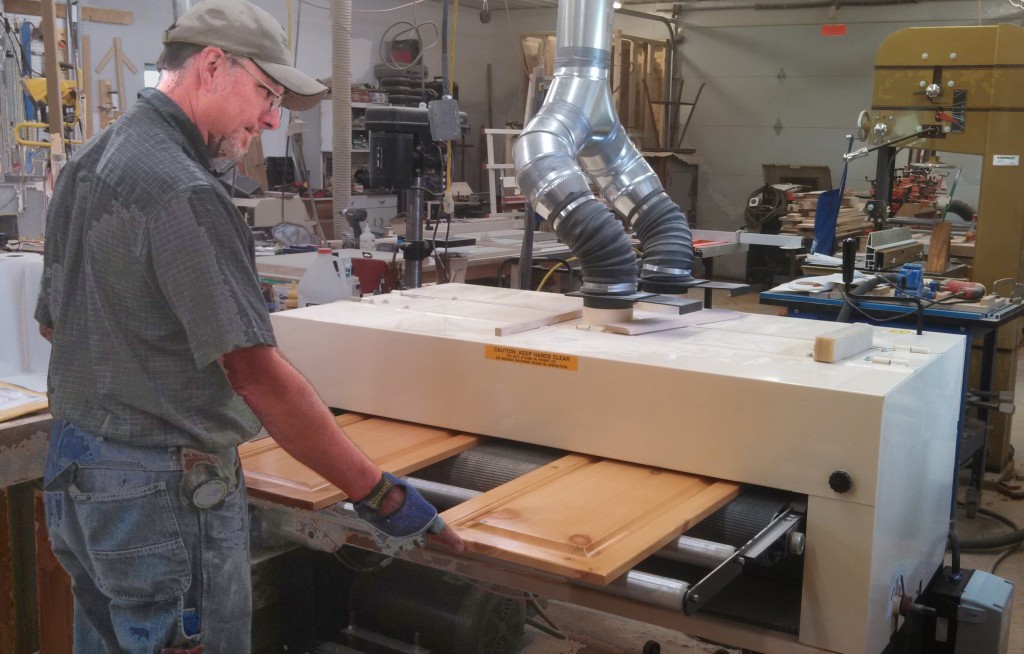 Well, quite a few years later, we talked with Tim again and his business is bigger and better than ever. He's added Woodmaster equipment, he's got tons more work, higher-end work, and he's making more money than ever. Here's what Tim had to say about his business these days…and why he traded up to his brand new 50" Woodmaster Double Drum Sander…
"Today, I'm doing a lot more high-end work, and larger projects than before. I make a wide gamut of products, anything from jewelry boxes, to flag display cases, military display cases, medal cases, furniture, wine cabinets, stereo cabinets, kitchen cabinets. I even do custom picture framing. I just made a table with a full set of Windsor chairs. I ship all over the United States. Through all these years, everything I've ever built has gone through one of my Woodmasters.
25% growth this year alone
Business is 
really good. I'm very busy and have a full plate. These days, a lot of people come to us through referrals. We don't do any real advertising. The work really sells itself. I have started selling online through a third-party website, and that's been really good. I have my own website, too.
SAVE BIG NOW on Woodmaster Drum Sanders! – sale prices, online specials
SAVE BIG NOW on Woodmaster Molder/Planers! – sale prices, online specials
My work volume has really picked up. I'm working full time and then some! My business income has grown probably 25% just in the last year. This growth has a lot to do with my confidence in my Woodmaster machinery – I can go after high-end work with confidence. If I run something through 
my Woodmasters, I know it'll come out the way I want. That really builds my confidence, and that helps my business.
50" Woodmaster Drum Sander — he traded up from 38" double drum
I had a 38" Woodmaster Double-Drum Sander, but because my business has grown and I'm getting projects that are wider than my 38" sander could handle — like linen closets, pantries, and table tops. I needed a wider drum sander so I figured why not go with Woodmaster's 50" Double Drum Sander, the 5075-X2. I ordered it with the 10HP motor upgrade.
I love this new 50" drum sander. It's durable and accurate, and has a digital readout. I send a piece through with the depth set so it's just touching. I set the sanding depth just where I want it and the result is flat and beautiful.
Sold his 38" for 75% of its purchase price
Coincidentally, Woodmaster gave my name to someone who was thinking about buying a Woodmaster Drum Sander and wanted to see one in person. I showed him my 3875 and put a piece of wood through it. He was impressed and said, 'You just sold me on Woodmaster Drum Sanders.' I told him I'd sell him my 3875 and he bought it. I was very happy with the resale value. I got about 75% of my original purchase price, and I put that toward my new 50" drum sander.
Primary & secondary sanding in 1 pass: fast, efficient, professional quality
Most of the time, I do both primary and secondary sanding in one pass. I do my primary sanding with the first drum and the secondary sanding with the second drum. For example, 120-grit paper on the first drum and 180-grit on the second. There's very little touchup needed.
Variable Feed Rate yields a perfect finish — Reversing Switch saves steps
The Feed Belt runs at variable speed – I love it, wouldn't be without it. You can put wood through fast or slow as needed. And the sander's Reversing Switch is great. A lot of times, I send a workpiece through then hit the Reversing Switch — it brings the board back to you. It saves you steps and it works real nice.
Tim runs 2 Woodmaster Molder/Planers — 1 for molding, 1 for planing
One of my Woodmaster Molder/Planers is set up as molder. Periodically, I use it for ripping, too. I just used it to make a display kiosk for Mille Lacs County Courthouse. I used the 718 to duplicate old molding used in the late 1800's.
My Woodmaster 725 Molder/Planer is set up for planing and it runs every day. I buy all my lumber in the rough and plane it to thickness. I installed Woodmaster's Spiral Cutterhead for planing — I just love it! I'd never go back to using planer blades. The Spiral Cutterhead is awesome. It's quiet and doesn't chip wood. I plane thousands of board feet a year. The Spiral Cutterhead stays sharp and just keeps going. I've never even rotated the 4-faced cutterheads — I'm still planing with the original faces.
I also have Woodmaster's biggest double bag dust collection system. It works out real well. I ran 6" pipe throughout shop, all with blast gates regulating the vacuuming to whichever machines are is in use.
"I absolutely attribute my business growth to Woodmaster."
 I can absolutely attribute my business growth to my Woodmaster machines. I couldn't go after the business I'm getting now without my Woodmasters. I can run figured woods. I can sand perfectly flat with professional quality because of Woodmaster. I'm also able to offer moldings nobody else can because I have access to Woodmaster's 600 molding knife patterns; custom moldings, too.
Tim built his successful woodworking business from scratch. You can, too.
If you want to get into business and want full confidence that you can produce the products with the quality you want, I highly recommend Woodmaster machines. They're low maintenance, easy to use, and very accurate. You'll definitely get your money out of these machines. They will perform over and above what you expect.
My respect for Woodmaster is really high. When it was time to buy another sander, I didn't go anywhere else. Same thing with my planers – my first was a 718, then I got a 725. If you're like me, when you own a Woodmaster and it's time to upgrade, you'll go with another Woodmaster."
— Tim Ziegler, Ziegler WoodWork & Specialty, Foreston, MN  —  Woodmaster Drum Sander & Woodmaster Molder/Planer Owner
SAVE BIG NOW on Woodmaster Drum Sanders! – sale prices, online specials
SAVE BIG NOW on Woodmaster Molder/Planers! – sale prices, online specials
QUESTIONS? COMMENTS?
3 WAYS we can help you!