EXTREME REMODELING with a Skid-Steer and a Woodmaster Planer
"My wife wanted our home remodeled. I DEMOLISHED & REBUILT. My Woodmaster played a key role in all the finish work. And it paid for itself three times over on this one project."
"For many years, my wife and I traveled all over the USA working for a huge construction company. We were both Construction Superintendents in the heavy duty side of construction – power plants, nuclear plants, and more. In 2011, we bought our 45-acre retirement hobby farm so we'd have a place to call home. I retired two years ago and, bless her heart, my wife's still working.
The farm came with a farmhouse and my wife wanted it remodeled. What I did was more demolish and rebuild, rather than remodel. The structure had been pieced together over the years and had a pavilion-style truss roof over the whole thing. I basically demolished the old house, left the roof, and built our new home under it.
I wanted to make the trim, casing, and tongue and groove flooring
When it came time to rebuild, I knew I wanted to make most of the trim, molding, and tongue and groove flooring in our new home so I researched woodworking machines. I'd done hobby woodworking all my life. I never did it to earn a living but I always enjoyed it. You pick up things as you go. I saw all the things a Woodmaster Planer could do and I bought the 25"model with a Pro Pack, 3-Side Molding System, C2 Molding Head, and Spiral Cutterhead.
I made most of our casing, molding, flooring, and wood paneling from trees I cut on our land. Sycamore, beech, poplar, red oak, and white oak. I started harvesting trees over three years ago. We cut and hauled about twenty loads of logs to a local sawmill. Then we hauled the rough cut lumber back, stickered and stacked it in our pole barn to air dry. Then I built a solar powered kiln to bring the wood from 12.5% moisture content down to 7.3%.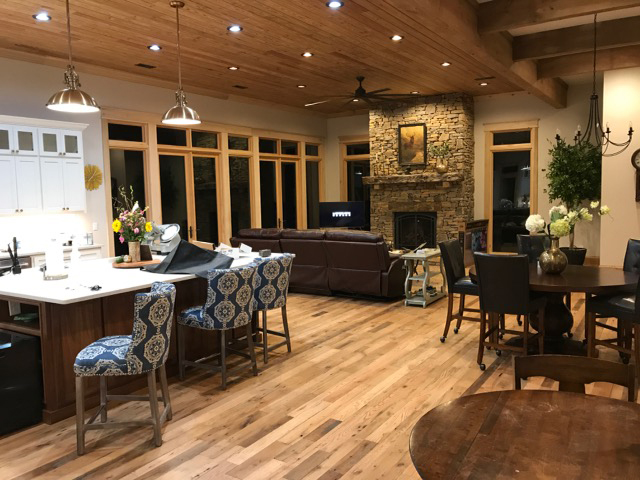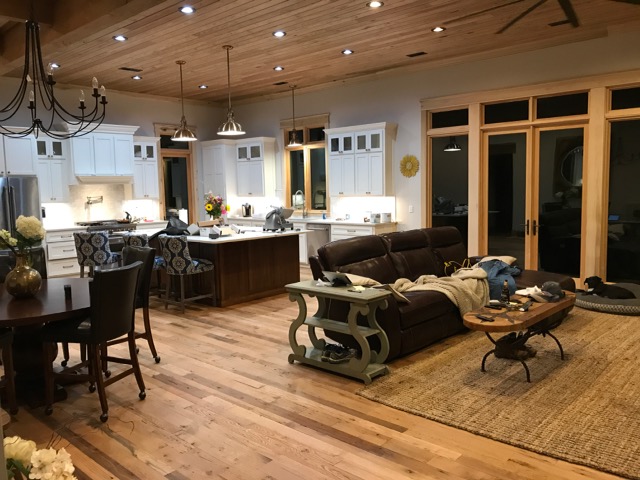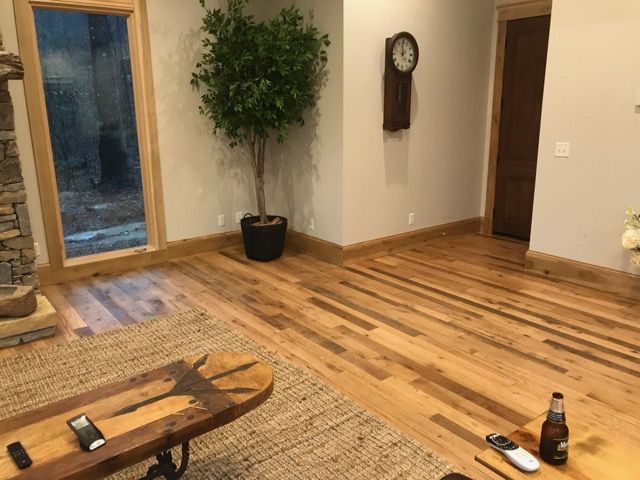 Some of the beams are solid pine. Others are steel cased in pine. I decided to use real wood paneling instead of sheetrock – wood looks better. The mantle is an old cross-tie I pulled out of our pasture where it was used as a fence corner post.
It's a 4-in-1 planer, gang rip saw, drum sander, and molder
The Woodmaster and its attachments were the central part of the finishing phase of building our home. This machine has been essential. It does everything I want and more.
I planed our rough cut lumber to the right thickness with the Woodmaster set up as a planer. Then I set it up as a Gang Rip Saw and ripped it to the right width. Then I set it up as a drum sander and sanded all the casing. And I made our molding by setting up the machine as a Molder.
For most of our flooring, I planed hardwood, ripped it, sanded it, and shaped the tongue and groove with the 3-Side Molding System. In one pass with that attachment system, I cut the tongue, the groove, and the back relief.
4 functions in 1 machine – excellent in every function
Just to be clear, I did have some hesitancy before I bought the Woodmaster. I'd had a Shopsmith V and found it did a few things well but there were a lot of things it did not do well. I wondered if the 4-in-1 Woodmaster would be like that – do just one or two functions well and the others not so well. But I can tell you it does an excellent job in every function – molding, planing, ripping, sanding. The design and engineering behind every function is excellent. They didn't skimp on anything. I give it a 9.5 or a 10. It's an excellent machine. Very well built.
Woodmaster paid for itself three times over
Sure, there are $100,000 industrial planers out there. The Woodmaster is not in that heavy industrial class. But it costs a fraction of industrial machines – pennies on the dollar. And I want to add – on this one project, the Woodmaster paid for itself at least three times over.
I talked with their sales guys several times while setting the machine up. They didn't rush, they took their time helping me out. I felt very comfortable working with them. I haven't had many dealings with the Woodmaster Tools company since I've purchased but, when I have, they've given me excellent customer service. That's a biggie. If I have an issue, they jump right on it and help me out.
"Stop thinking and just do it"
If you're thinking about getting a Woodmaster, stop thinking and just do it! The tricky part of a project like this is having a wife that doesn't raise hell about buying the tools and equipment you need to do the work. I texted her a picture of the new excavator sitting in the driveway and it almost put the poor girl over the edge. But it's all good now…I think."
— Darrell Bice, Woodmaster 725 Owner, Jacksonville, AL
SAVE BIG NOW on Woodmaster Molder/Planers – sale prices, online specials
SAVE BIG NOW on Woodmaster Drum Sanders – sale prices, online specials
QUESTIONS? COMMENTS?
3 WAYS we can help you!
• Call us TOLL FREE 1-800-821-6651
• Email us info@woodmastertools.com
• Connect with us on Facebook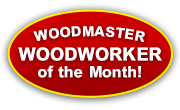 Would YOU like to be our next Woodmaster Woodworker of the Month?
Email editor@woodmastertools.com photos of you, your projects, and your Woodmaster, write a note about yourself.