Canoes, Counters, Cabinets — THIS D-I-Y COUPLE IS UNSTOPPABLE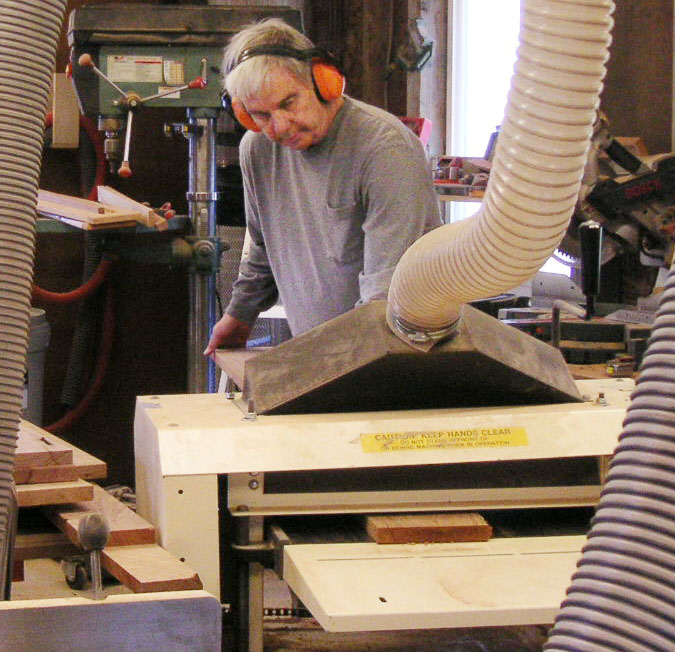 Here's Chuck Phelps in his shop, planing lumber with his Woodmaster Molder/Planer. When you're a serious D-I-Y'er, it doesn't get any better than this.
Most people will NEVER understand why building things from scratch is so tremendously rewarding. "Build a canoe? Plane my own counter tops?" Most people would say, "Forget about it!"
But Chuck and Dale Phelps do understand. Not just WHY doing-it-yourself is so deeply satisfying; they also know just HOW to do it all, with big help from their Woodmaster Molder/Planer. They have a Woodmaster Drum Sander, too.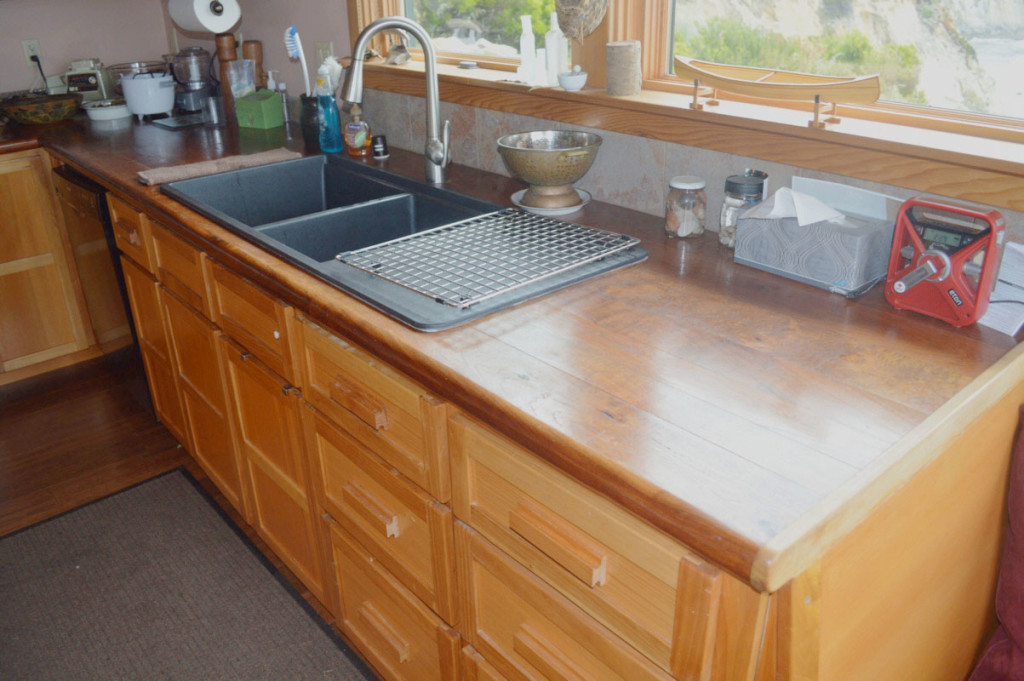 The Phelps made their kitchen cabinets of Monterey Cypress, and made the counter tops of Mesquite. Beautiful!
"My wife, Dale, and I do a lot of woodworking together. We bought a midsized Woodmaster then a 38" Woodmaster Drum Sander. These two Woodmaster machines work fabulously well. They're exquisitely made and we use them all the time.
SAVE BIG NOW on Woodmaster Molder/Planers – sale prices, online specials
SAVE BIG NOW on Woodmaster Drum Sanders – sale prices, online specials
A canoe kit started it all…
Here's how it all started. Years ago, Dale and I received a model canoe kit as a Christmas present. We built it, cedar strips and all, and thought, 'Why not make a real, full sized canoe?' She and I ended up building five full sized cedar strip canoes. As we built the first two, we saw we were spending a lot of money buying cedar strips. I decided I wanted to mill canoe strips from my own lumber and that's when we got our Woodmaster Molder/Planer.
I mill the wood for our canoes from scratch using white cedar deck planking. I plane it to 3/4″ thick, then cut it into 1/4″ thick strips on a bandsaw.
As of today, we've built five cedar strip canoes, the last three with our Woodmaster Molder/Planer. We made some for relatives and still own two of them. I made one for a fundraising auction at the University of Rochester — it brought in $5,000, the largest bid in the auction!
They built their new kitchen – counters, cabinets, more
Dale and I retired to northern California and bought a 900 square foot home. We've since tripled its size. As we were building the new kitchen, we decided to build the kitchen cabinets ourselves. We built them out of Monterey Cypress, a wood native to this area. I milled a lot of raw wood on my Molder/Planer and sanded it with my Drum Sander. Dale applied the finishes.
Cypress cabinets, mesquite counter tops
Then Dale and I started talking about counter tops. We didn't want granite counters — if you drop a glass it breaks. We decided to make counters out of mesquite. It's a pest tree in the south where huge areas are overgrown with mesquite. They just bulldoze it out. But it's a great wood to work with and I found a woodworker who salvages, saws, and sells it. I bought some and ran it through my planer to get it all to uniform thickness.
We made about 60 lineal feet of counters a full 30″ wide. I glued up 15" wide slabs, put them through my Woodmster Molder/Planer, then did final smoothing on our Woodmaster Drum Sander. Then I joined the halves with biscuits. Dale finshed the tops with tung oil – the bottoms, too, so they wouldn't cup.
"Inferior equipment will drive you crazy"
I do lots of research before I buy tools and try to buy the best. Woodmaster equipment is obviously the best on the market. You can't get Woodmaster's throat width on equipment from Home Depot.

I advise others to not skimp on inferior equipment. If you get a machine that doesn't work well, it'll drive you crazy. It's simply a mistake to start with imprecise tools.
— Charles Phelps, Woodmaster Owner, Gualala CA
SAVE BIG NOW on Woodmaster Molder/Planers – sale prices, online specials
SAVE BIG NOW on Woodmaster Drum Sanders – sale prices, online specials
      Questions? Comments?