BUILD YOUR OWN LOG HOME with a Woodmaster Molder/Planer
"Working full time over a period of seven months in 2009 and 2010, a friend and I built my log home in here in Kaufman County, Texas. Here's how I did it.
I used my 25″ Woodmaster planer with molder, drum sander, and tongue and groove attachments to make my own flooring and ceiling boards; mold all of the trim and kitchen cabinets; plane all our kitchen counter tops; and make a 6" thick slab island bar out of black walnut.
Through the kindness of friends
Through the kindness of friends, all of the wood for our home came out of more than 200 hardwood and cedar logs I logged and milled off two different ranches.
Besides our home, I've built our outbuildings including a 40′ x 50' wood shop. I've made so many wood projects over the years that I couldn't have made without my Woodmaster. I continue to enjoy it today. Thank you Woodmaster for building a quality machine, made in the USA.
I'm a Marine Corps vet and a stone mason by trade. I worked in construction until I had a back injury. Now I'm an X-ray technician at a big hospital in Dallas. We bought property in 1988 and a Woodmaster in 1999. I bought it with the intention of building our home.
I build a lot of rustic projects like an 8' x 4' slab table of red oak with turquoise inlay. I've done timber framing, built porches, greenhouses, and more. I've done scribe work, built fireplace mantles, picture frames, furniture; a lot of work with mortise and tenon or dowel joinery.
I like working with my hands
I got involved with woodworking because I like the outdoors and working with my hands. And I just like chain saws! I took a timber framing workshop and it's grown from there. I'm basically self-taught; I learn a lot about woodworking by watching videos on YouTube.
A couple of the guys I work with have large ranches here in Texas. They cleared a lot of mesquite trees and were going to burn them but I skidded them out instead. I took 100 trees from one ranch and another 100 from the other.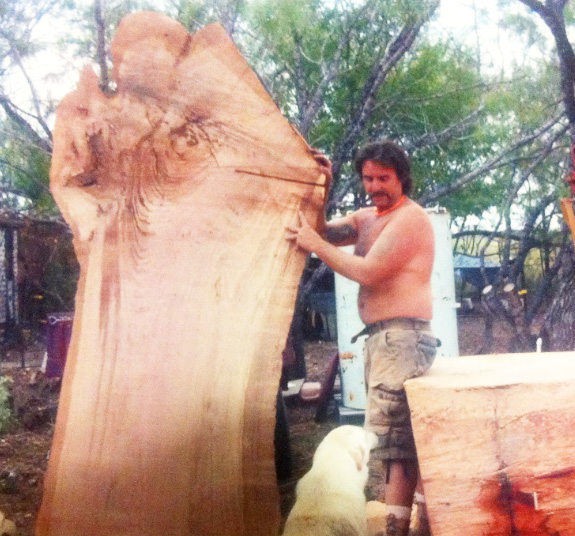 Way before construction started…
Way before construction of my house started, I knew I'd need a molder/planer. I'd planned the building for 20 years. When I got the logs, they were at 13% moisture, and that's incredibly dry. Still, in log construction, you have to make accommodation for expansion and contraction of the logs.
I made double tongue-and-grooves in each log so each log would fit tightly into the log below it. I glued between logs and used 11" lag bolts every two feet.
The sun is so strong around here that UV light and exposure can really weather logs. So I built a wraparound porch 8' wide so the house's walls are always protected. It's eight years now and the logs look like new.
I made the ceilings, floors, trim, molding, and countertops using red oak, cedar, black walnut, and more. I planed a lot of wood!
I use every bit of this machine
I chose Woodmaster for the flexibility it offers. I can set it up as a planer, a molder, a drum sander, and a rip saw. And it's affordable. Other machines are flexible but they're so expensive! I use every bit of this machine and it just fits the bill for me. It's been invaluable.
The 725 model? I liked the 25" width of it. It fit my needs, allows me to plane wider pieces. My countertops wouldn't have fit thorough a regular sized planer. For example, I made a 25" wide mantle, a 6" thick x 13" wide island, a 4" thick x 13-to-14" live edge L-shaped island top. I like the way the height adjustment works, too.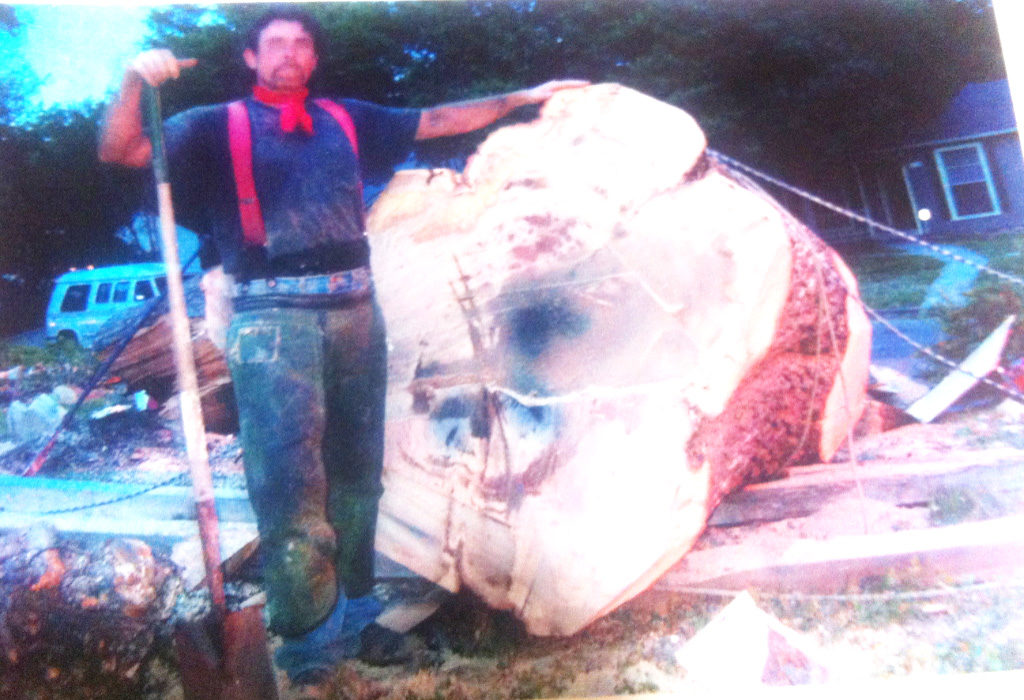 Next: retirement business
I'm hoping to retire in a few years and will do woodworking in retirement. This machine's well designed, well built, and I'm very happy with the quality of it. It works very well."
SAVE BIG NOW on Woodmaster Molder/Planers – sale prices, online specials
SAVE BIG NOW on Woodmaster Drum Sanders – sale prices, online specials
QUESTIONS? COMMENTS?
3 WAYS we can help you!
• Call us TOLL FREE 1-800-821-6651
• Email us info@woodmastertools.com
• Connect with us on Facebook