AMERICA NEEDS MORE CABINETMAKERS!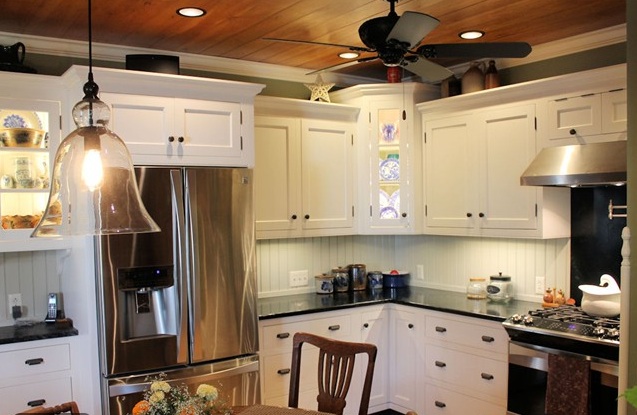 "This country needs more cabinetmakers!" So says Kim Wagner, a Pennsylvania cabinetmaker and Woodmaster Molder/Planer owner. The first reason is America needs skilled men and women to carry on the tradition and the trade. The second reason is purely practical: there's a lot of work out there! "We're getting more calls than ever for cabinetry. We could use another employee right now if we had the right person," says Wagner. "It was slow for a couple years but things are better now," he says.
"I've been doing custom cabinet work for about 20 years now, building custom cabinets of all kinds. I work with my son and one part time employee. We're about 50 miles from Harrisburg, Pennsylvania; 50 miles from Baltimore, Maryland; and 50 miles from Philadelphia. There are a lot of high end homes around here, but we do kitchens for farmers, doctors, we get all kinds of customers. My shop is about 3,200 sq. ft. I buy rough cut lumber — I saw it and plane it on my Woodmaster Molder/Planer.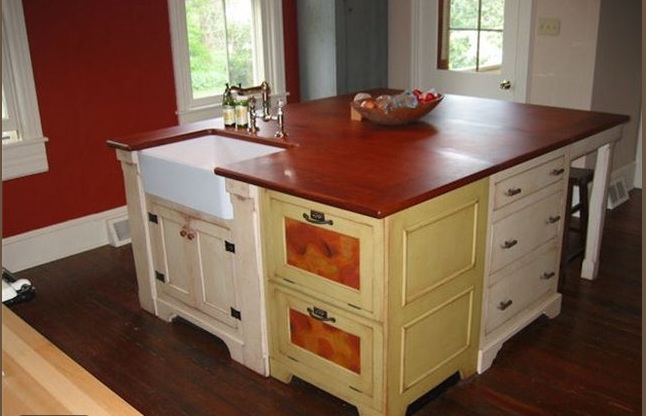 SAVE BIG NOW on Woodmaster Molder/Planers – sale prices, online specials
SAVE BIG NOW on Woodmaster Drum Sanders – sale prices, online specials
25-year old Woodmaster, brand new Spiral Cutterhead – working great
I got my Woodmaster about 25 years ago; so long ago that Woodmaster doesn't have a record of my purchasing it from them. I just put a Spiral Cutterhead on it and it's really working great.
Right now, we're making kitchen cabinets made of hickory. Hickory dulls planer blades pretty quickly. But the Spiral Cutterhead makes the surfaces as smooth as anything I've ever seen. It's literally as smooth as glass with very little chip-out.
My 18" Spiral Cutterhead has 122 carbide-tipped inserts, each with four cutting faces. The spiral makes it work: each little cutting face is overlapped by the one next to it. The cutterhead is very quiet and I'd recommend it to anyone.
(Editor's Note: Each insert has four cutting faces. When one face dulls, simply rotate a new cutting face into position. But because they're carbide-tipped, each face stays sharp a long, long time.)
More calls than ever
I ran the business by myself for a year, then my son came in with me and he's been here ever since. We hired help; at one time we had five employees. It was slow for a few years but things are better now. We could use another employee right now if we had the right person.
These days, we're getting more calls than ever. We have a showroom with a computer that plays a video of our work. It shows the work we've done so people can see what we do.
1 belt change in 20 years
The Woodmaster Planer has handled all the wood we've used to build cabinets for over 20 years. I think I changed the belt only once in 20 years, and I changed one bearing. I changed the feed rollers about four times but I expected that. This machine has exceeded my expectations beyond what I thought it would do.
I'd looked at getting a Woodmaster for years before I bought one. I read the flyers Woodmaster sends out. I wanted the Spiral Cutterhead and we're making enough now to justify it. It's not inexpensive but we'll make the money back on just a couple kitchens because we won't have to spend time sanding the workpieces. The time savings will pay off the cost of the Spiral Cutterhead.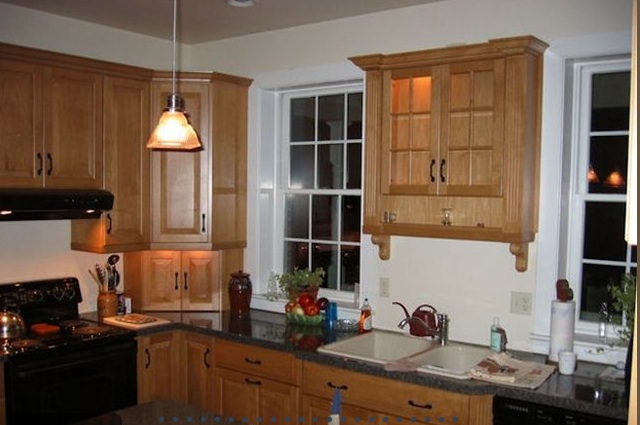 Home Depot? No competition
We do mostly residential work and some work for retail establishments. All hardwood, all high quality work. We can't compete with Home Depot and Lowes prices. We don't even try; we don't want our name connected with something that'll fall apart.
We specialize in doing things other people don't want to do. People come in with ideas and ask us to build them. For example, a customer came in with an idea for a desk in his head and asked if we could make it work. I'd never seen anything like it, but we built it. We've done lots of custom projects like that over the years. High end custom work.
We draw the plans using a computer software program; we've used it for years. My son draws it on the computer and it generates a cut list. We cut the pieces and they all fit perfectly. Some of the custom work we have to sort of ad lib.
I chose Woodmaster the same way I do everything else I buy. I looked, read all about it, I read the testimonials. Also, it was less expensive than other machines. I bought it before we went into business. I'd gone to school for cabinetmaking but had a job as a supervisor for 26 years at a manufactured housing factory and when I had enough of that I got back to making cabinets.
This country needs more cabinetmakers
My advice for others is do a good job. If you don't do good work, how are you going to stay in business? People tell other people. That's where most of our business comes from — people telling other people. Or people see our work someplace and contact us. We have a display in an appliance store near here. We built about 60 lineal feet of cabinets for them to display and we get a lot of business from it.
I highly recommend the Woodmaster Molder/Planer. I graduated from a trade school that's now called Stevens College of Technology. They still teach cabinetmaking and other trades. This country needs more tradespeople, not just people who work on computers. About 98% of people who graduate from Stevens have a job when they graduate.
The Woodmaster company's been very good when I call them and ask for information. They tell me what I need to know and I really appreciate that. If you're thinking about getting a Woodmaster, I'd say go for it. I'd kind of like to own a 725 Woodmaster but that'll come someday.
— Kim Wagner, Cabinets By Wagner, Woodmaster 718 Owner
SAVE BIG NOW on Woodmaster Molder/Planers – sale prices, online specials
SAVE BIG NOW on Woodmaster Drum Sanders – sale prices, online specials
QUESTIONS? COMMENTS?
3 WAYS we can help you!