5 years and a Woodmaster — FAMILY BUILDS THEIR OWN EXTRAORDINARY OFF-THE-GRID HOME
Here's the story of what may be the ultimate D-I-Y project. Woodmaster owner, Eric Esaison, his wife, Linda, and their two teenage sons took on the massive task of building their own off-the-grid home from scratch on 60 undeveloped acres in Massachusetts.
Central to this gigantic project was Eric's Woodmaster Molder/Planer. He and his family cut their own trees, sawed them into lumber, and created THOUSANDS of board feet of flooring, siding, and trim.
"I'm an IT guy (information technology) and a serious do-it-yourselfer. I've always wanted to build a log home and in 2007 my wife and I bought 60 wooded acres near Sturbridge, Massachusetts. We decided to build our log home ourselves. With five years of hard work and a Model 725 Woodmaster Molder/Planer, we built our own very private 4,500 square foot log home at the end of a ¾ of a mile driveway. We call it the coolest home nobody will ever see!
"Woodmaster can handle big volume, big projects"
I got the planer specifically to make finished lumber for our home. Finished boards are expensive; we had 60 acres of woodland and I knew we could make our own lumber and trim with the right equipment. We saved hundreds of dollars on red oak trim. Besides saving money, you just can't buy the custom materials we made ourselves. We ran my Woodmaster pretty much continuously during the building process.
SAVE BIG NOW on Woodmaster Molder/Planers – sale prices, online specials
SAVE BIG NOW on Woodmaster Drum Sanders – sale prices, online specials
It paid for itself in no time and cost us nothing beyond the initial purchase price. It's one of the few woodworking machines that could take the volume of wood I put through it. Woodmaster's how-to videos are great, a real big help. This machine doesn't have a big price tag and it does great work. I chose Woodmaster because it has a really good reputation. I did a lot of Googling and read a lot of product reviews. I never saw even one negative comment. I totally concur with everything I read online. This machine is absolutely stellar.
I ran a ton of wood through it! It's done everything I wanted it to do. We built the road, a bridge, the house, a big garage, and more. We cleared the land, cut trees, sawed them into boards, surfaced them on my 725 Woodmaster Molder/Planer, and used the finished lumber and trim to build our new home.
"Here's what we did with my Model 725 Woodmaster…"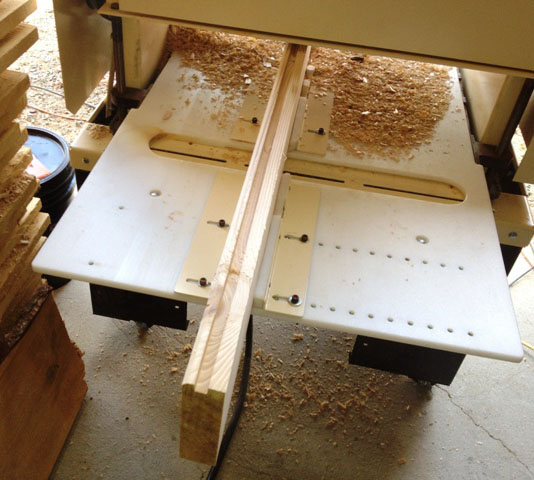 We made the 5/4" x 14" fascia trim around the roof line from our white pine trees. We manufactured 2" x 6" tongue and groove floor boards for the loft from our hemlock trees. We made roughly 1,000 1" x 8" x 14" T & G white pine boards for the ceilings, cut from white pines that were knocked down in a tornado that went through the Sturbridge area in June of 2011. We created all the interior window and door trim from a couple of 200 year old red oaks that were removed from the house site. We made the mantle over the fireplace. It's a 4" x 12" hunk of the same red oak. We sided our new 24' x 32' garage with log cabin siding we made on the Woodmaster. And our next project will be sawing wide oak planks for the main floor. And we'll surface them, of course, on my Woodmaster!
Totally Off The Grid

We're totally off the grid. The only wire connecting us to the outside world is 3,200' of armored fiber optic cable we use to access the internet. We have a wood furnace, a 12,000 watt solar array, a 2,000 watt windmill, and a big bank of storage batteries. We generate our own electricity, heat, and hot water. Since we moved into our new home in 2012 we've paid $0 for utilities.
Ordinary folks, extraordinary undertaking

We are homeowners and do-it-yourselfers, not professional builders. I was the general contractor. My wife Linda and I, with our two sons, Justin and Jordan, were the building crew. Logs came from a company in Maine. I hired local companies to put in the foundation; plumbing, and septic; and assemble the log building shell. We did everything else!
There's a big benefit to doing a big building project like this: it's a great opportunity to buy big boy toys. I bought a sawmill, a bulldozer, tractor, an all-terrain forklift, and a Woodmaster Molder/Planer!
Our home's joists are all 3 x 12 hemlock. There are 2,000 individual 14' 1" x 8" white pine boards. A tornado came through here and we salvaged downed trees. The decking in the loft is 1" x 6" tongue and groove hemlock; the loft floor forms the ceiling of the kitchen and bathroom on the first floor. All the fascia boards are 5/4 x 12" white pine. All the interior trim is cut from 200 year old red oaks.
"I got the biggest Woodmaster — price difference between models is not that much"
I got the biggest Woodmaster Molder/Planer, the 725, for its capability. I wanted to be sure the model I chose would do everything I wanted. The price difference between the big 725 Woodmaster I bought and a smaller Woodmaster is not that much money. I also got the 3-Side Molding System and used it for all the tongue and groove work. The Woodmaster saved me tens of thousands of dollars.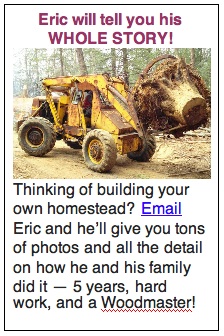 Trouble free
Woodmaster's a great tool, I have nothing but good things to say about it. It's important to me that it's made in the USA — that influenced my decision to buy one. Foreign-made machines don't hold up, and I like to keep my dollars in America. The only thing I've bought for my Woodmaster is a new set of
knives
.
My advice for others? Building your own home is doable and worth it if you're willing to invest time and sweat. With the power of today's internet, there's really nothing you can't figure out how to do if you really want to. If you want to build your own home, fear nothing and plan on it taking a long time!"
— Eric Esiason, Woodmaster Owner & one serious D-I-Y'er, Massachusetts
SAVE BIG NOW on Woodmaster Molder/Planers – sale prices, online specials
SAVE BIG NOW on Woodmaster Drum Sanders – sale prices, online specials
QUESTIONS? COMMENTS?
3 WAYS we can help you!